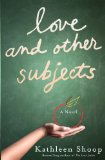 Carolyn Jenkins wants more than anything to be a really good teacher, but now, in the middle of her first year, it's harder than she expected and she feels she's getting nowhere with her class of inner-city 5th and 6th graders, many of whom can't really even read. She's stymied at every turn by her principal, Klein, who relishes every change to belittle and verbally abuse her. One really bad fall day, a kid in her class pulls a gun. It's a BB gun but it nevertheless shreds the toe of her boot and leaves her bleeding. That night, she goes out to get drunk and meets a man who sends shivers up her spine, cementing her decision to break up with her long-term boyfriend, since it's a relationship going nowhere in part because of Carolyn's complete lack of any domestic skills such as cooking or cleaning.
Carolyn lives with 2 room-mates, both also first-year teachers at the same school and friends from college. They have good relationships but are very different. Laura's from the South, cries easily, teaches first grade. Nina's the gym teacher, and feels that she understands the kids better than the others due to her race. The 3 of them have their ups and downs, but all ultimately support each other.
Love and Other Subjects
deals with serious subjects; under-achieving schools, poor curriculum, neglected children, insecurity and when to know if love is right and true. There are some really funny moments, some really touching ones, and lots of agonizing ones, as Carolyn learns by trial and error how to reach the kids in her classroom. She's willing to learn from her mistakes and humble herself, and her growth as a teacher is encouraging to see. It's also funny to watch her on-again off-again relationship with Jeep, the guy she met in the bar that night, who turns out to have some really freaky sisters–6 of them!–and a wealthy background.
Although this book started out slow for me, I'm glad I stuck with it. Carolyn's quirkiness–her insecurities, passion for teaching, habit of over-analyzing everything in her life–resonated with me. She cracked me up several times, and reminded me of some college friends of my own. I loved watching her grow as a teacher, simply because she was willing to risk a lot to reach the kids in her classroom, including recognizing that nothing in her life had really prepared her to reach them. Love and Other Subjects
takes an honest look at career and life choices, and you'll enjoy being along for the ride.
This review is part of BookSparksPR's Summer Reading Challenge! I received a copy of the book in exchange for my honest opinion.