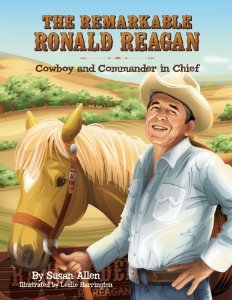 Thanks to Regnery Kids for publishing this book and sending a copy my direction in exchange for my honest thoughts.
Yes, I am a Republican. Yes, I do like Ronald Reagan. The second is the primary reason why I was up for checking out The Remarkable Ronald Reagan: Cowboy and Commander in Chief
which is a new release from Regnery Kids. Secondarily, I am always interested in finding picture book biographies which are suitable for introducing my young children (ages 2, 4, and 6) to notable people (regardless their political background).
Of course, any biography on any president is going to spark controversy, whether they be Republican, Democrat, Libertarian or otherwise. In a nation full of a vast array of worldviews and political leanings it can be hard to find books written about any particular president (or political figure) that does not have a bias attached to it. In my case, I typically find it hard to find biographies about Democrats that aren't singing the praises of the party. If you are a Democrat looking for a neutral book about Ronald Reagan, I suspect you'll not be very fond of this one. The title alone should tell you that the author, Susan Allen, thinks highly of President Reagan. (Since I do myself, this doesn't necessarily bother me. However, I know the struggles I have when the situation is reversed and that can be frustrating, most especially when I very much disagree with certain political positions.)
The Remarkable Ronald Reagan: Cowboy and Commander in Chief
attempts to share with its young readers the fascinating career of Ronald Reagan, from being a radio sports announcer to becoming the President of the United States. This book compliments his work ethic and ability to speak positively in a world that can use a bit of positive now and again. In short, this is a very glowing book about the man Ronald Reagan. I think it is summarized best in its opening remarks:
"Ronald Reagan knew that one of the best parts about being an American is the freedom to work hard to be whatever you wanted to be."
Some might say that Allen is romanticizing Reagan and they should be free to say and think so. For myself, I think Allen portrays Reagan with a great deal of accuracy and fairness and therefore I am a fan of this book. I feel I can happily recommend it to others. But I can't recommend it without the caveat that it is very pro-Reagan and if you don't like him you are welcome not to like this book. Just like I should be very free to not like biographies of some Democrats which I feel portray them in a light that is far too flattering. (Worldviews and all that!)
Carrie has a worldview, knows what it is, and expresses it regularly over at Reading to Know where she blogs about books, faith and life.