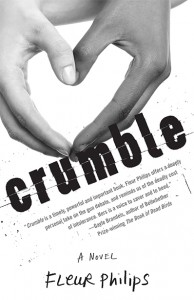 Next up in the BookSparks Summer Reading Challenge is the novel Crumble by Fleur Philips, a contemporary take on forbidden love set in Montana. Romeo and Juliet were forced to keep their love secret because of the longstanding feud between their families, and like that classic couple, Sarah and David must also hide their relationship because it wouldn't be accepted by many in their community, most notably Sarah's dad. David is black, and Sarah is white, and that simple difference makes it impossible for them to be together openly.
The Montana setting, though even modern day, seemed a bit foreign to me living in a very diverse area of the country where interracial relationships are nothing out of the ordinary. But for Sarah and David, 18 year old high school seniors, their relationship  is something to hide out of fear of the repercussions, especially from her father, George. Though he displays a Confederate flag sticker on his truck, Sarah knows very little about his past or the origin of his racist attitudes. But her relationship with her father isn't something that she wants to throw away either, for he has been her only parent since she was an infant and her mother walked away from the family, and she loves him dearly. She doesn't understand his perspective, but she has only begun to recently examine it. She and David are mere months away from escaping the small-minded and oppressive community in which they live, for they'll both be at college together in Los Angeles, and they look forward to a time when they won't have to hide any longer.
Sadly, just as Romeo and Juliet was ultimately a tragedy, so is Crumble, and the source of George's deep-seated hatred soon comes to light when he looks to a troubled classmate of Sarah's for help in figuring out why she's been acting so strangely as of late. The combination of George's racist history and Alex's need to prove himself to George and Sarah is absolutely devastating for everyone involved.
This Young Adult novel addresses several serious issues from teen sex and pregnancy, abortion, and familial abuse, and at times, profanity is used. To me, this only made the novel more realistic to today's world. The tone of the novel is raw at times, with passages that openly and emotionally confront these serious topics. Thought-provoking and intense, Crumble is an accessible novel that will likely draw in adolescent and adult readers.
Dawn enjoys being swept away by a good story, even if she's left reeling at the final pages. In addition to reading, Dawn plans to spend her summer revitalizing her blog, my thoughts exactly.