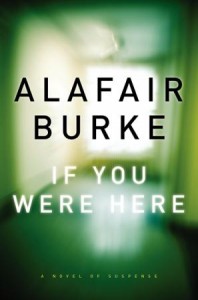 McKenna Jordan used to be an up-and-coming ADA, until she ended up falsely accusing a clean cop of being a dirty one, nearly sparking race riots in the process. Now she works as a journalist, writing mostly fluff pieces with the occasional article that's more hard-hitting.
One day a teenager tries to steal someone's phone, and the would-be victim chases him down, and then manages to save his life by lifting him off the train tracks onto which he's fallen. She then grabs her phone back and escapes. Someone catches it on her cell-phone, and McKenna is sent the video. She is amazed to recognize the woman–a friend of hers named Susan Hauptman, who disappeared 10 years ago. The police at the time were sure she'd chosen to disappear, but McKenna was convinced they didn't go far enough in their investigations. She begins to dig into the past, and things get hairy pretty fast. Too many coincidences are happening, with her job, her marriage, even her life all suddenly in jeopardy.
If You Were Here
is a fast-paced plot-driven thriller, yet it takes the time to let the reader get to know McKenna, what drives her, her regrets and hopes. It dives deep into the events, some deeply hidden, that have led to the current state of affairs. McKenna wonders what connection her husband, Patrick, has with her missing friend Susan–after all, it was Susan who introduced the two of them. McKenna also contacts the policeman who was in charge of the case 10 years earlier–a man whose friendship with the policeman McKenna accused didn't cause him any warm feelings towards her. As her life spirals out of control, McKenna doesn't know who she can trust, and she may be choosing the wrong person. She begins to wonder what friendship means, what commitment means.
Author Alafair Burke's own background is evident here; she worked as an Assistant District Attorney herself before moving on to writing novels, and it's clear she knows the world she's creating very well. If You Were Here
is a great summer read, with the excitement and plot twists to keep you involved, and the character descriptions to make you care about the people.
This post is part of TLC Book Tours. Check out the other reviews at their web site.