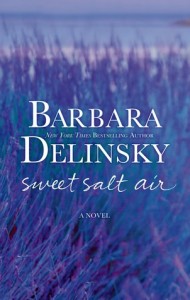 Ten years is a long time for best friends to not see each other face to face as they do in Sweet Salt Air by Barbara Delinsky. Charlotte and Nicole have been leading very different lives since Nicole's marriage 10 years previously. After the wedding, Charlotte was simply to busy with life and her job as a journalist telling people's stories all around the world. Nicole's successful blog has turned into a cookbook deal, and she entices Charlotte to return to Quinnipeague, the island off Maine where Nicole's family has a summer house.
Win It!
One of you will win a copy of this book. Click over to read my full review of Sweet Salt Air at 5 Minutes for Mom. Follow the instructions there to enter to win.
Written by Michelle who is mildly jealous of the fictional Nicole's blogging success. She also blogs about food and other topics on her own blog Honest & Truly! or you can find her on Twitter where she is also @HonestAndTruly.