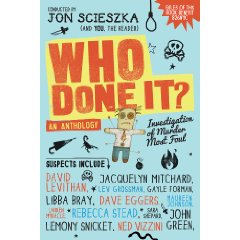 Can you imagine the most cantankerous book editor alive? Part Voldemort, part Cruella de Vil (if she were a dude), and worse in appearance and odor than a gluttonous farm pig? A man who makes no secret of his love of cheese or his disdain of unworthy authors? That man is Herman Mildew.
The anthology opens with an invitation to a party, care of this insufferable monster, where more than 80 of the most talented, bestselling and recognizable names in YA and children's fiction learn that they are suspects in his murder. All must provide alibis in brief first-person entries. The problem is that all of them are liars, all of them are fabulists, and all have something to hide…
I would highly recommend Who Done It? to anyone who reads a lot of YA fiction, and especially those who are major fans of the authors. It is slightly long, with over 70 different authors' takes on why they did not kill editor Herman Mildew (even though most of them are suspect in some way, and almost all admit to wanting him dead). But I can't think of one entry that I would have deleted.
As I said, if you are a YA insider, then you'll love the in jokes (In her entry Emily Jenkins, a beloved children's author, pokes fun at someone who might use a pen name, when in fact she writes YA under the name of e. lockhardt), not to mention the personality-filled, 1st person, humorous accounts from any author you love. I also found myself looking up several authors whose work I was unfamiliar with, yet whose entry charmed me.
Check out some of the powerhouses featured (children's and YA authors, but all writing in an adult/young-adult way):
Judy Blundell
John Green
Maureen Johnson
Mo Willems
Elise Broach
Lauren Myracle
Rebecca Stead
Libba Bray
All in all Who Done It? is a very fun read, either to sit down and read straight through, or to pick up here and there when you want a short reading fix.
The only disappointment is that you don't really get an answer at the end, though the twist is clever in itself, and it hardly had read as a serious fact-gathering mission to that point, so I wasn't surprised.
CONTENT NOTE: I was familiar with Jon Sciezcka's GUYS READ anthologies (fantastic!), so I automatically assumed that this was a collection for that same middle-grade 9 – 12 audience. It's not. It's definitely young adult, with a bit of mild profanity and some sexual references (concerning affairs and whatnot, though there is no explicit sexual content).