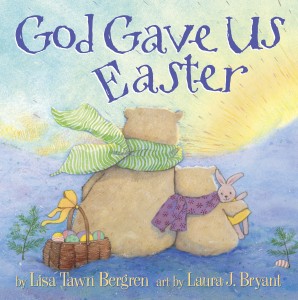 God Gave Us Easter
is the latest release in Lisa Tawn Bergren's "God Gave Us" Polar Bear series. It's also the first in the series which I have had the opportunity to read! When asked if I wanted to review a copy, I just couldn't pass it up as I've long been curious about these books.
I have to tell you up front that I'm pretty picky when it comes to presenting accurate theology to children (not to mention to our own selves) and I wasn't really sure what to make of the book from the title alone. There were some big question marks in my head as I sat down to read this title. Aside from the cute and fuzzy, adorable polar bears talking about Easter, I have to say that I was generally pleased with the way this book reads.
My concern was that the book would lightly discuss the topic of Easter. I feared something in the way of, "Spring comes and there are flowers and Jesus died for our sins." I try to avoid books like that for my children for two reasons: 1. They can handle the story of Jesus' death and resurrection and 2. Watering down the story of Jesus' death and resurrection does them a great disservice. The Gospel message is harsh sounding to us, but it has impact. It's important to note that it only has impact because it is harsh. You should not try to escape that as a Christian or a Christian parent. I do not want to water down the message for my kids. I wouldn't read them this book if I thought it was going to be about daisies and eggs. (We do read books about daisies and eggs, but if we're going to talk about Christ and His life, death and resurrection, I like to stick to the facts!)
I appreciated the fact that although in God Gave Us Easter
we're looking at Papa Bear and his baby (sitting next to a basket of eggs!) and can glean some warm fuzzies from the illustrations, the conversation that the two bears have is not fluffy nonsense. Bergren does a very nice job explaining the basics of Jesus's death and resurrection, and the necessity of both, in a manner that young children can comprehend. It's not dumbed down but the message is shared through casual conversation. I've no objections to that whatsoever because Christian parents are supposed to be talking about God all the time with their kids – in casual conversation.
In this book Papa Bear is explaining that God had Easter in mind since the beginning of time. He explains that God knew which earthly family Jesus would be born into, that the plan was for Jesus to die, but that He would not stay dead. Finally, He planned this all so that we might have eternal life and a relationship with God ourselves. Papa Bear explains these things by using analogies involving eggs and rainbows which little children would be very familiar with. In short, this is a very approachable story for little children. Visually, it's not a harsh tale. Practically, it paints a picture of the need for Jesus to die on the cross in a way that the younger child can comprehend and make sense of. It's not a bad book to add to the home collection by any means and my picky self is satisfied that it will suitably build a child's consciousness of Jesus and their need of Him.
In short, I think Bergren succeeds in explaining Easter in an appropriate manner and I have no hesitations in recommending this book. (And now I'm really curious about the other books in this series!)
Thanks to WaterBrook Multnomah for sending a copy of this title my way in exchange for my honest thoughts.
Carrie blogs about books for all ages from a Christian worldview over at Reading to Know.