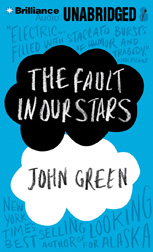 John Green is one of those darlings of the kidlit blogging community. When I read — actually, listened to — his novel An Abundance of Katherines, I quickly saw why he's a favorite of adults who read young adult literature, and the young adult target audience as well. The characters were not perfect, but they were winsome and real (and pretty darn funny).
When I had the chance to review The Fault in Our Stars audiobook, I jumped at it.
Hazel and Gus meet in the basement of a church — otherwise known throughout the novel in a comically ironic way as the "literal heart of Jesus" as the leader of the teen cancer support group incorrectly dubs it, because of his belief that the love and care and support means that they are in the "literal" heart of Jesus. Gus is there, yes as a "cancer kid," but mostly to support his friend Isaac who is about to undergo surgery that might result in the loss of his vision.
But in spite of the tragic backdrop, Hazel and Augustus' eyes meet across the room, and sparks fly. Romance blooms as they share conversation and their favorite books with each other, and inevitably join together in a goal to meet Peter Van Houten, the author of Hazel's favorite book An Imperial Affliction, a novel about a young girl who has cancer. The book ends abruptly, and Gus is determined to help Hazel figure out what happened to the characters she has come to love so much.
My rambling attempt to introduce the plot is not what The Fault in Our Stars is really about. It's a story of first love, friendship, family, and of course adversity. John Green is a wonderful writer who is able to craft great stories full of humor and heart which feature likable characters, though flawed in the way that all teenagers are — although Augustus Waters and Hazel Grace Lancaster are so very very charming and lovable and tragic that they transcend that self-absorption that plagues most teens (and is in fact necessary to adolescents developing into functioning adults).
My treatise into child development aside, let me reiterate that I truly loved this book and loved the audio version even more.
AUDIOBOOK NOTES: Some genres and types of books are ideal for audiobook renditions. In addition to memoir, first-person fiction translates beautifully. Young Adult fiction is often written in first-person, and even if it's not, the in-the-moment sort of angst and introspection adds to my enjoyment as an audiobook. The Fault in Our Stars is read by Kate Rudd beautifully. She became Hazel Grace Lancaster, and her reading was part of my experience (after reading some of the samples on the amazon page I definitely think that the conversational style of the book came across better in audio form than if I had read it).
There's also an awesome exclusive interview with John Green that tips the scale in the direction of audiobook versus hardcover (and the cost is less than a hardcover book). You can listen to a sample at the Brilliance audio site.
CONTENT NOTE: I was excited to think that I might be able to share this with my 13-year-old daughter, which I knew I couldn't do with An Abundance of Katherines when I listened to it a couple of years ago, due to language and other content. There is some language in The Fault in Our Stars, and there's one scene that had content that had me inevitably (but reluctantly) deciding to hold off on passing it along to her until she's in high school, but I can't wait for her to get to know these teens when the time is right.
Jennifer Donovan lived out her own romantic dramas in her teen years, but she's now been happily married for 19 years. She blogs about life with her family at Snapshot.