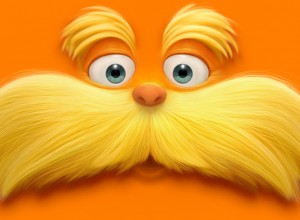 Last week, I shared my thoughts with you about the upcoming movie The Lorax in part one of Books on Screen: Dr. Seuss' The Lorax, and I hoped to reassure kidlit enthusiasts that the film version stays consistent with the spirit of the classic book. For me, the story is a cautionary tale about being thoughtful of the consequences of your actions. Yes, the environmental message is quite clear, but I don't agree with the claim that it carries an anti-business theme at all. The story portrays an extreme, and it cannot be denied that if the concept of sustainability isn't considered– in any aspect of life, and certainly in a business plan– there are sure to be negative consequences. I've always been a fan of the book, and I think that the message is an important one to impart.
Filmmaking with a "message"
Since I've loved Dr. Seuss' The Lorax for years and years, I was excited to listen to the filmmakers talk about the process of bringing the story to the big screen when I attending a recent parenting blogger roundtable with the people behind the film. Producer Chris Meledandri, director Chris Renaud, and screenwriters Cinco Paul and Ken Daurio, (who clearly work well together after the hilarity of the project they're best known for– Despicable Me) were so kind as to sit and chat with our group. They spoke about the challenge of creating a children's film with a "message," and I think Chris Meledandri summed up it well here:
Our belief is that, unless this film engages and entertains, the audience won't be there to actually experience what are the thematic elements of it.

And we took that from Dr. Seuss himself because that's what he did. He had very specific ideas about imparting values to his readers.

But, he had a strategy, which is I'm going to delight them. And while I'm delighting them, I'm imparting values. And that's what we tried to replicate in a filmmaking environment."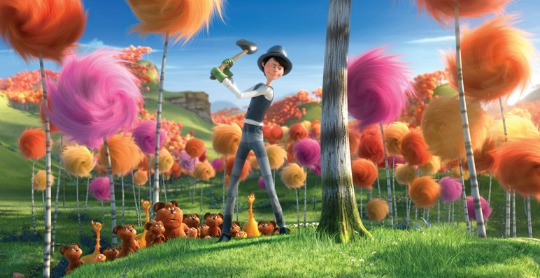 Cinco Paul and Ken Daurio also touched on the theme of environmentalism and how they saw their roles in writing this film:
Cinco Paul: "We tried not to think of it as political but more just like come on, everybody, right? Let's take care of this planet."

Ken Duario: "It's not [political]."

Cinco Paul: "But, I tell you, from the very beginning, our meetings with Audrey [Geisel, Dr. Seuss' widow] and meetings with Chris [Meledandri, Producer], it was always something talked about like this is a timely message and this is a message that we need to get out there. And what I have noticed is no one is more of an environmentalist than kids."

Ken Duario: "They're born that way."

Cinco Paul: "They're born that way, and it gets beaten out of us, I guess, as we get older. This was never a burden. We just felt the responsibility to get that message across as so beautifully expressed in the book."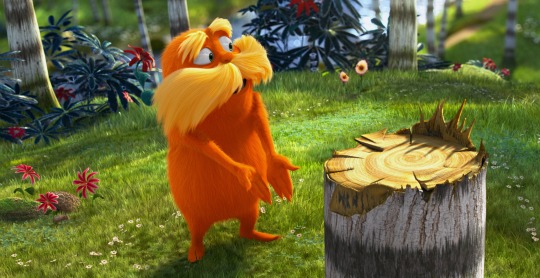 The keeper of the original intent
The role that Audrey Geisel played as executive producer carries great weight with me, and hearing about the meetings that the filmmakers had with her during production gave me goosebumps. If you're a Dr. Seuss fan, I hope you'll love hearing this as much as I did:
Ken Daurio: "You're in Dr. Seuss' house. You're sitting there, and there's his artwork on the walls and up on the wall here, there's just this rectangle of wood. There's just a piece of wood. And it's covered with ink and scratches. And that was his table where he drew everything and wrote the books and you're all getting all emotional and it's like my childhood. Yes, it was amazing."
Oh, how I'd love to see that rectangle of wood!
The best thing I learned was something I read in the information packet we were given prior to the movie screening. In one section, Audrey Geisel is quoted talking about Ted "Dr. Seuss" Geisel's path to becoming a children's book author and illustrator and the inspiration for the book The Lorax. (To read more specifics on this, head over to my blog today for the full quote.) She adds:
The Lorax is one of the most important books that Ted wrote, and it is one of my favorites. This film celebrates the book in such a beautiful and inspiring way. I think Ted would be quite proud."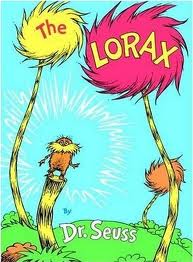 In addition, it is stated that Dr. Seuss himself publicly pronounced The Lorax as his own favorite of all his books. I'm not sure that I've read every single one of the 46 books he wrote, but I'm thrilled beyond belief to share my favorite with the author himself.
If you go see The Lorax movie after it opens tomorrow, March 2, I'd love to hear your thoughts on the transformation of the classic piece of children's literature. I was smitten from the opening credits, which used Seuss-ian fonts, to the end credits that rolled while the images on the screen changed to the original illustrations. With catchy music throughout, and a fabulous cast including Ed Helms, Danny DeVito, Betty White, Zac Efron, Taylor Swift, and Rob Riggle, I hope you and yours enjoy The Lorax as much as I did. I'll be seeing it again this weekend with my own kids in tow, and I predict their smiles will be huge.
Dawn has strong opinions on lots of things, books and movies high on that list. She's happy when those opinions are positive, since people seem to like hearing those more than the negative ones. She can be found hanging out online on her blog, my thoughts exactly.