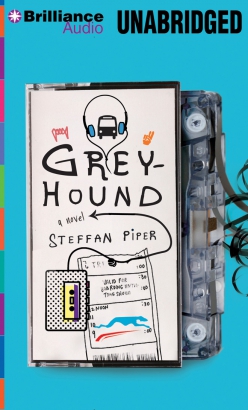 I believe this book is marketed as a book for adults, and I understand that, but in a world where many young adult books contain very explicit language and sexual content, a book such as Greyhound, by Steffan Piper, which has some difficult mature content about a 12-year-old boy, should not be held back from teens.
Sebastien Ranes is a good kid. In spite of living in emotional and sometimes physical neglect with his mother, he seems not to have completely lost it. The depth of his mother's insensitivity is revealed when she puts her not-quite-12-year-old son on a Greyhound bus from California to Pennsylvania with only $35. She's sending him off to live with his grandparents and his sister who chooses to live there, so that she can get married.
Sebastien's emotions are conflicted. He's a child, and children assume that their parents will love and care for them. But deep down, he knows that his mother doesn't.
He tries to stay under the radar for his four-day trip, but in spite of that, he encounters some very friendly and caring people, along with some unsympathetic or downright evil ones. He is part of a hijacking and a bus fire, witnesses a death, and is attacked himself. The saving grace is meeting Marcus early on. Marcus is a young black man, recently let our from prison. He's had a lot of time to think, and he's a good guy, and the fact that he keeps an eye out for Sebastien and helps him to process what's happening proves it. He's a real hero and was a delightful character to discover.
The 1981 setting was interesting for me; Sebastien being about the same age as I was then made it even more so.
There is a sequel looking at Sebastien's life at 19, and I want to know how it turns out for him, so the audio version of Fugue State is on the way.
NOTES ON THE AUDIOBOOK:
Nick Poedhl is one of my favorite readers, especially for stories told about young men. He did not disappoint in this one. The story was a good one, but I'm quite sure that listening to it was an even better experience for me.
You can listen to a sample at the Brilliance Audio site.