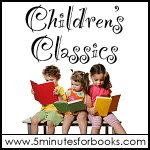 Welcome to the first installment in our Children's Classics Award Winners Challenge! From now through December, we'll be asking you to share your love for those children's books that have been honored by the powers that be with the shiny stickers that indicate outstanding writing and illustrations.

In my family, this past month has involved extended out-of-town visiting for me and the kids (to be away from our house which is under some serious DIY renovations), which translated into zero trips to the library and a whole lot of exploring the scads of books on our own shelves. I found it to be a lovely experience discovering how many award winners we're fortunate to have in our collection. For July, I'd like to focus on a few picture books that my four and two year old children have enjoyed, so we're looking at some winners of The Randolph Caldecott Medal, which is "awarded annually by the Association for Library Service to Children, a division of the American Library Association, to the artist of the most distinguished American picture book for children."

One of our very favorites is the 2010 Caldecott Medal Winner, Jerry Pinkney's The Lion & The Mouse. I shared my thoughts on this book earlier this year as a part of the Cybils Picture Book Finalists, and trust me this incredible wordless picture book deserves all the honors bestowed upon it! My children find new details in Pinkney's illustrations with each reading, and the story played out in the pictures never loses its sparkle.
Another Caldecott Medal honoree that is a winner in our family, this one from 2004, is Mordicai Gerstein's The Man Who Walked Between the Towers. My older son has been fascinated with this book for years, and if you read Jennifer's Books on Screen post from last week, Let the Great World Spin/Man on Wire, this book provides an opportunity to share the story of Philippe Petit with your children, an interesting tale involving New York City's beloved Twin Towers.

The 2000 Caldecott Medal winner, Joseph Had a Little Overcoat, by Simms Taback, is delightful to read with extremely colorful and eclectic collage illustrations, including cut-out features that connect each page's pictures with the story of a long useful piece of cloth. I adore the message and emotion behind this story, making it one of those picture books that I don't mind reading again and again. (And let's face it, again and AGAIN!)

And finally, a 2004 Caldecott Honor Book, Ella Sarah Gets Dressed by Margaret Chodos-Irvine, is at the top of my four year old daughter's list of fun books. Just like my daughter, Ella enjoys putting together an outfit that incorporates every single color of the rainbow along with a variety of bold patterns. Even though she's encouraged by her family members to choose something different, Ella insists on her clothing choices, and in the end, she emerges from her room in her very own style.
How about you? We'd love to read about the Award Winners that you and your children have enjoyed together. Please link up with us here, and share the love by visiting around with us, and come back each Tuesday to join our other community events, including Kids' Picks, What's on Your Nightstand? and I Read It!
Check out our current giveaways. Subscribe to our feed. Follow us @5M4B on Twitter.
Dawn hasn't received many awards in her day (except for the coveted "Meanest Mommy in the World" title, more often than she'd like), but she is kind of a big deal on her blog, my thoughts exactly.