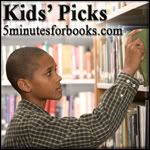 My kids are out of school in just a few days. I can already anticipate the "I'm bored's" that I'm going to have to field day in and day out. Having good books around is more than ever if I am going to encourage them to read instead of just veg in front of the television, computer, or other small screen.
Can you help me out?
What have your kids read that they loved? What would they recommend to other kids their age? Write up a post on your own blog (or join in the comments) and link up to us below. Visit around the others to see what suggestions they can offer.
Visit our Join In page to find out all the details about all of our Tuesday community events.

Check out our current giveaways. Subscribe to our feed. Follow us @5M4B on Twitter.

Tell us the age of the child who is doing the picking when you link up, directly to your blog post: