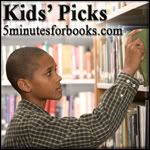 We're turning the corner into summer. Are you looking for some books to keep your library bookbags full with new books you'll all enjoy? Searching for a new series to suggest to your middle grade reader? Wondering what books other young non-fiction readers are enjoying? That's what we are here for. The third Thursday of every month, we come together offering up our best "Kids' Picks." Ask your kids which books they read last month that they would recommend to other kids their age, then write up a post — or let them guest blog for you — sharing that "pick" with all of us.
If you are not a blogger, give us your recommendations in the comment section.
Then visit around and see what kinds of suggestions you find for your kids and enter the conversation — perhaps giving that blogger other suggestions that their child might like.
This is my favorite community event here, and I hope that you'll make it a habit to join in, especially throughout the summer, when our kids either have more time to read and need more good suggestions, or they need a really good recommendation to encourage them to actually read when their brains are in "summer" mode.
Visit our Join In page to find out all the details about all of our Tuesday community events.

Coming up:
Check out our current giveaways. Subscribe to our feed. Follow us @5M4B on Twitter.
Now it's your turn. Link up, directly to your blog post, or share your thoughts in the comments: