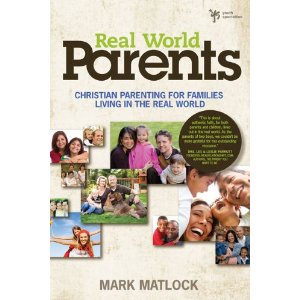 The full title of this book ups the understanding of its content and tone. In Real World Parents: Christian Parenting for Families Living in the Real World Mark Matlock, who has spent many years working with youth and their families, presents his ideas for raising Christian kids without going to two extremes: isolation from it or complete immersion in it.
He continually encourages the reader to do "what feels right for your family." He doesn't advocate moral compromise, but for example, he says that for some families a structured "family devotion" time doesn't feel natural. He shares that they never had regular family devotions in his own home, and yet he and two of his brothers are in full-time ministry. His point is well-taken — one can teach Christian values and raise Christian kids without doing certain things that might seem to be a given.
Another repeated theme is to act out your faith, individually and as a family, as well as discussing the culture that will surround your kids no matter how you try to moderate it.
Some parents may feel as if it doesn't go far enough or that there's not much new here, but I think that this will speak to many parents who want to pass on their faith to their children in a way that is real and authentic for them, instead of just dragging them through the motions. While it may seem that he lets parents off the hook, I think he actually calls them to a higher standard — that of using their home as ambassadors for Christ, and imparting wisdom to their children so that the children can learn to think and apply God's laws for themselves, in regards to following rules, taking chances, and making entertainment choices.
Each chapter closes with a few questions that help you evaluate where you are in regards to the subject presented and what could you add to your family life to better address it.
The book is short — 10 chapters and less than 150 pages — but for me this is one of its strengths. Even in parenting books where I agree with their premise (as I do with this one), I tend to lose steam after the first half, feeling as if I've already gotten it, and I think that they tend to pad the book to give you more. Matlock instead chooses to go straight to the point.
Jennifer Donovan thinks parenting is hard, and she never knows if she's doing it right. She doesn't live and die by the parenting book, but appreciates a good resource now and then. She blogs at Snapshot.