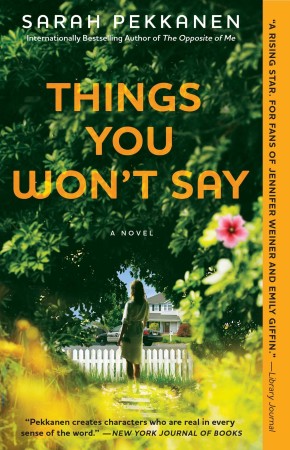 Jamie Anderson has always lived in fear of the unthinkable — her husband Mike being killed in the line of duty while doing his job as a police officer — and when Mike's partner Richie is shot as the men exit the police station, that fear becomes even stronger. Mike feels guilty for his best friend getting hurt, hasn't been sleeping, and returns to work without seeing a therapist. But Jamie is shocked when she hears on the news that a police officer has shot a gang member during a brawl, and that officer is Mike.
Jamie has always been the strong one, taking care of her younger sister Lou after their mother died, so when Jamie turns to Lou for support, Lou drops everything and rushes to her side. Lou is happy in her role as aunt, spoiling the kids whenever possible, spending hours with them at the zoo where she works as elephant keeper.
As evidence against Mike comes to light — the gun he swears he saw has not been found — Jamie wants to believe her husband but her first priority is taking care of their 3 kids, plus Henry, Mike's teenage son with his ex-girlfriend, Christie. Christie has had an amicable, if distant, relationship with Jamie, as they've worked together over the years on the logistics of sharing custody of a boy they both love. Christie and Jamie come from different worlds and Jamie frowns upon Christie's tight outfits and flashy lifestyle. Jamie also resents Christie for the child support Mike has paid her when her family is barely scraping by on Mike's police salary. But when Christie is approached by a private detective about a job catching men cheating on their wives, she realizes this could be her way out of debt.
Things  You Won't Say alternates between the three women as each deals with the shooting and Mike's impending indictment. Jamie's initial reaction that Mike may not have actually seen a gun causes him to turn away from her, and his refusal to talk to her is frustrating yet a very real reaction to the hurt he feels. Lou, having to move out of her apartment, moves in with Jamie to help care for the kids and be there when Jamie needs her. And Christie uses connections at her new job to help Mike, also providing the support he feels he's not getting from Jamie.
There are so many cases of police shootings and the media often presents the victim's side without getting into how the families of all involved are affected. Things You Won't Say tells the story of what it's like to be the subject of suspicion and hatred from outsiders, the issue of how much to tell kids and how much the small hurts can grow in this type of situation. My only quibble is with Lou's story, I don't think it added much and at times took away from the real meat of the story.