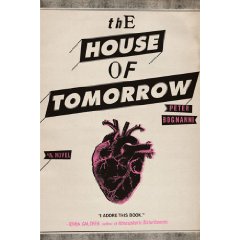 House of Tomorrow is a heartwarming and quirky coming-of-age story.
Fifteen-year-old Sebastian is such a misfit that he doesn't even know it. He's spent practically all of his life living with his grandmother in seclusion in a futuristic geodesic dome. She has a stroke while church youth group leader Janice Whitcomb is on a tour. Her punk-rock son Jared, waiting in the car, is curious about Sebastian, and Sebastian who has barely ever seen another teenager, is curious about Jared.
Jared has that Holden Caulfield mix of the know-it-all of a teen and the insecurity of a misfit (a misfit who is recovering from a heart transplant no less).
He and Sebastian become friends. Janice wants to encourage her son's friendship and also wants to help Sebastian in his time of need. His and Jared's friendship starts off in an interesting way, with really no common threads (oh wait — did I mention that they are both misfits?), as they end up forming a punk rock band.
I wasn't sure about this novel. Coming of age novels can either be delightful ou or a bit trite. Characters who are religious are often painted as simple and/or fanatical. Homeschooled parentless teen characters can easily revert to stereotype (just pick one).
But author Peter Bognanni does none of this. Janice is a struggling mom who happens to find solace in her church and who tries (mostly unsuccessfully) to share what she's found there with the youth group. Sebastian fits no stereotype out there (except maybe sheltered). He's a delightful, deep, yet simple unique character. Even the slightly more stereotypical Jared and his wild-child sister Meredith are written with sensitivity and honesty.
Quirky and heartwarming come through on every page in this delightful debut novel. You probably don't often see a punk rock themed anything described as heartwarming, but as these young people come together and discover how to meet their own needs and how to help each other, you can't help but be drawn in. I know nothing of punk rock, and you don't have to, but if you went through your own punk rocker stage, I would think that the references would add a lot of fun to your reading of this book.
I really, really enjoyed House of Tomorrow.
This is published as an adult novel, but I think it would definitely appeal to older teens. There is language and the sorts of topics that one would expect adolescent boys to think and talk about (One of the punk rock songs that they write is about zapping off women's clothes), but nothing is going to surprise any teen who is familiar with any sort of PG-13 culture at all.
Jennifer Donovan is a reader, a mother, a wife, a sister, a friend, and a daughter. She blogs at Snapshot.