My first exposure to the Magic School Bus was when Amanda found it on TV as a preschooler. She enjoyed the show, and I remember her spouting back some of the facts that she learned to me. The show (based on the books) might be long-gone, but new books are still being published.
The Magic School Bus series is great, because it encourages kids to be curious, and empowers them to not only learn more, but to do more.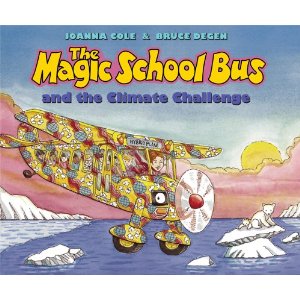 The Magic School Bus And The Climate Challenge is a perfect example of this concept.
This latest adventure begins when the children are looking at one of Ms. Frizzle's old Geography books, and notice that the pictures of the Arctic in her old book are different from the way the Arctic looks now. And so of course, "The Friz" herds them onto the Magic School Bus and they are headed on one of those special field trips, this time to the Arctic Sea.
This book was full of interesting facts, for example about how Carbon Dioxide gets trapped in the atmosphere, which acts like a "warming blanket."
When I asked my 5 ½ year old son if he learned anything from the book, he said, "Yes. I learned that electric stuff makes CO2." As I'm transcribing his quote, he says, "Also write that CO2 are little dots. Dots of fire."
So, he got the basic teaching, but maybe he'll have to wait a couple of years to understand the whole molecule/atom bit. I'm good with that, especially since the book is recommended for ages 7 to 12.
After the students return, they assess how their town is doing. Suggestions go from an institutional/town level, to homes, to small changes that even kids can make, such as writing on the back of their papers so that they use less (or as the wise-cracking Ralphie volunteers — not doing his homework at all!).
Global warming has become a political issue, and though I believe that we are making some choices as a society that are not responsible, I wonder about some of the rhetoric. This book stuck to the facts and our responsibility without crossing that line that tends to irritate me.
This series is great for non-fiction-loving kids, and with the small-sized bites of text, and busy pages with speech bubbles and sidebars,
I did an interview with the illustrator Bruce Degen about how Magic School Bus books come together and his thoughts on how his local town is doing with climate change. Check it out.
You can also join in a live webcast with Joanna Cole and Bruce Degen on April 20. Find out all the details and sign up HERE.
Find out more about the book at the Scholastic page.
We have a great prize package to offer up:
This giveaway will be open for two weeks. We will announce the winners on April 14.
The winners from last week's giveaways are:
Check out our current giveaways. Subscribe to our feed. Follow us @5M4B on Twitter.
Jennifer Donovan is not a big fan of field trips, and has as of yet avoiding chaperoning one. She'd rather read about them in books such as these. Read about other parenting choices she makes at her blog Snapshot.