As the mom to two preschool aged children, I try to be prepared with time fillers when we get ready for situations that involve waiting- the doctor's office, restaurants, the seemingly never ending line at the post office. Little race cars and animal figures work wonders for my young 'uns, but they also are increasingly interested in drawing, which makes ALEX Toys' activity books just perfect for us.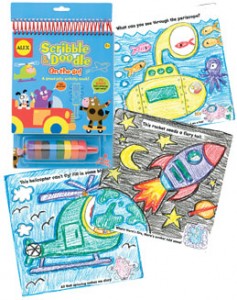 They are currently happy to bring along their Scribble & Doodle books with us when we venture out, but they're also just as happy sitting at their play table with them as well. These spiral bound drawing books, with 50 partially printed pages in addition to 25 blank pages, come with eight triangular shaped crayons that fit on children's fingertips and are unique and inviting. I say "partially" printed pages, because they feature just a part of a drawing, and the rest of the space on the page is available for the child to complete. Some doodles invite symmetry, while others could be interpreted in a variety of ways.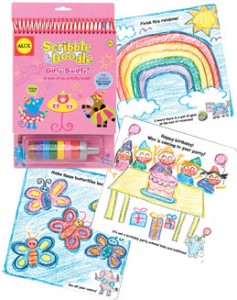 While I'm not always a fan of gender-specific targeting for toys, I do have to report that my son is a fan of the On the Go book, while my daughter is thrilled with the Girly Swirly one. (I am happy to report, though, that they have worked on several pages in both books together and have been happy to share the different colored crayons with each other… sometimes.)
ALEX Toys is offering a copy of both Scribble & Doodle: On the Go and Scribble & Doodle: Girly Swirly to one lucky 5 Minutes for Books reader! This giveaway is a little different than others, so here are the details:
The giveaway is open to US residents only, please.
To enter, you must become a fan of ALEX Toys on Facebook.
After becoming a fan, please leave a comment on the ALEX Toys Facebook page.
Then, leave a comment here on this post letting us know that you've joined the fan group!
We'll announce the winner on our regular Wednesday giveaway post on 3/31.
Check out our current giveaways. Subscribe to our feed. Follow us @5M4B on Twitter.
Dawn may or may not have scribbled and doodled on a few of these pages herself. She will admit, though, to being a bloggy mom at my thoughts exactly.