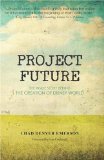 For the past eight years, my family has vacationed primarily at Walt Disney World. We love it: the atmosphere, the attractions, the characters, the magic. Disney World is so much more than a theme park; it is a meticulously designed resort developed with painstaking attention to detail. For our family, Disney World is a place where dreams do come true.
It's difficult to imagine the state of Florida without Disney World, but in his new book Project Future: The Inside Story Behind the Creation of Disney World
, Chad Emerson explores how Walt Disney's dream of an "East Coast Disneyland" came to be. Project Future
describes the backroom meetings, political strategies, and spy-like maneuvers that enabled the creation of a world-class resort in the swamplands of Florida.
Because I am a Disney-nut, I have read Disney biographies and some information about the development of Disney World. Project Future
added to my knowledge immensely. In the first half of the book, Emerson explores how Walt Disney chose the Orlando area (Mickey and friends could have ended up in several other locations) and examines the technicalities of the land purchases that allowed Disney to amass enough acreage to develop a true fantasy land. Purchasing the land, however, was only the beginning of the challenge. Walt Disney, and those who continued the project after his death, faced legal and political challenges, and Emerson recounts these in fascinating detail.
Chad Emerson's Project Future
is a book for Disney experts or novices interested in how it all began. Through his diligent research and interviews with key players in the Disney community, Emerson relates an intriguing tale. As I finished the book, I was amazed that all the details fell into place. Truly, Disney's Project Future changed the face of the amusement industry and the Florida economy; and it's impact on the hearts and minds of children (and grown-ups, too) is obvious almost 40 years later.
Lauren is a wife, a mother of two, an avid reader, and a Disney fanatic. She blogs at Baseballs and Bows. Lauren thanks Ayefour Publishing for providing the review copy of this book.