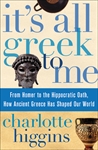 It's All Greek to Me
: From Homer to the Hippocratic Oath, How Ancient Greece Has Shaped Our World was everything I thought it would be and then a little bit more.
Written by Charlotte Higgins, it has the feel of a professor in love with his or her subject about it. I was trying to find out who Higgins was and found very little personal information about her on the web. Her twitter account brands her the "chief arts writer of the Guardian and on-the-side classicist." She studied the classics in college (at Balliol College, Oxford) but appears to direct her "teaching" to the public at large, through books and blog. So, should you decide to pick up a copy of It's All Greek to Me
prepare to learn a thing or two from a self-studied and very-much-enamored-with-Homer teacher-type of writer.
When I read this book I imagined that it looks similar to something I might write about Lucy Maud Montgomery. It wouldn't be boring (I would hope) and it would be full of fun facts (I would hope) which I would attempt to relate to the modern world. If you appreciate my enthusiasm for that which I love, you would like my book. You would need to seem some relevance to your life and maybe I would provide it to you and maybe I wouldn't. I'm pretty sure the same goes for Higgins' It's All Greek to Me
. She is nothing if not enthusiastic about connecting dots from our present to the past of Greek's society and she is passionate that we would understand our society today would benefit from knowing it's predecessors and how it was influenced by the Greek culture.
She pleads her case very well, I thought, and I was not bored for a moment. However, I'm dispassionate when it comes to the Greeks. I am not of the opinion that they are the forerunners of all that there is and ever could be. My beginnings (historically speaking) lie elsewhere and I wasn't convinced that Homer is the greatest story teller that ever was. (She didn't say that outright, by the way, but she rather strongly hinted it.)
It's true that we can see Greek influence in a modern day society. From politics, to the way we present ourselves and give speeches, write and hear stories and enjoy art. The Greeks were definitely influential. I wouldn't dream of even attempting to deny it. The problem is – I've never really liked the Greeks. The history is confusing, the gods are abhorrent, and I don't appreciate the blood which seems to spurt forth with great regularity. Not only does Higgins enjoy all of this, she thrives and finds humor in it!
"The imagery in the Odyssey is no less vivid but often a little less exalted. There's a hilarious simile where Odysseus can't sleep, and he tosses and turns like a sausage being turned on a grill by a cook. In another, when he's clinging onto a reef during one of his shipwrecks, and a huge wave crashes over him, hurling him out to sea, it is:

Like pebbles stuck in the suckers of some octopus
dragged from its lair – so strips of skin torn
from his clawing hands stuck to the rock face."

Odyssey 5 476-478
(Although my son would definitely appreciate the octopus reference, I'm just not so very much amused.)
Clearly, this is a topic that is close to Higgins' heart. That comes shining through in this book and for that reason I am charmed by it. But for me it was like listening politely, or even with amusement, at someone telling me about the antics of their pet hamster. The pet owner loves their pet. I do not. But I like to hear them talk about it as if it is the whole wide and entertaining world. Essentially – I don't really care. But she clearly does. And since I care about her, I'm happy to listen.
If you'd like to learn more about the Greeks, then by all means grab a copy of this book and hear from someone who is passionate about it. That wouldn't be me, but it would be Charlotte Higgins. I think you'll enjoy her.
Carrie comes by her book obsession honestly, having descended from a long line of bibliophiles. She blogs about books regularly at Reading to Know and Reading My Library.