I'm well aware of the fact that I am sounding like a broken record around here, but my son really, really, really loves ocean animals and so we are on a massive world-wide hunt to find the best books on ocean animals that we possible can! Then, our goal is to read them at least 1,000,000,000 a piece! Memorize them! Sleep with them hidden under our pillows! (You think I jest? Oh no, my friend! Oh no!)
We were delighted to have an opportunity to browse through three books published by Sound Prints, which are a part of their Smithsonian Oceanic Collection.
Behold: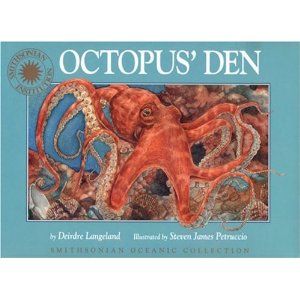 First and foremost, we almost blew a brain fuse when Octopus' Den
, by Deirdre Langeland was pulled from the package from Sound Print. These books read like a storybook but are factual in nature so we learn about the octopus and its habits as we move through the story. For example, this one opens up by introducing us to an octopus who is in disguise, waiting for his dinner. After his hunt for food, he grows tired and wants to head home from his cave. However, he is distracted by a shiny piece of glass which he decides to take home and add to his "fence." We were not aware of this before hand, but apparently octopuses can live in groups of dens which are somewhat clustered together. Octopuses will gather up items with which they build "fences" between themselves and their surrounding neighbors and ocean dwellers. The octopus is a remarkable creature, really, and we find him a little bit more fascinating with each passing day. This book was wonderful to discover!

In Seal Pup Grows Up: The Story of a Harbor Seal
, by Kathleen Weidner Zoehfeld we meet a curious little seal pup who is hanging out with his mother in a herd. These seals are residing along the coast of Maine and we enjoyed reading about the pup as he learned how to catch his own food in the water. We are relieved as he escapes from a preying raven who would like to take a nibble of the little pup. Thank goodness for Mama Seal! She saves the day in this story, as she loves on her young and teaches him how to survive in the world.

Lastly, we had a chance to look through Wings in the Water: The Story of a Manta Ray
, by Hope Irvin Marston. This book follows the story of a manta ray which lives in the East Philippine Sea in the lagoon around Yap Island. Unlike the seal pup's mom, this mother manta leaves her baby to fend for itself. Apparently they are ready for life on their own the moment that they are born! (Can you imagine such a thing?) Young manta's colors protect her from the sharks and she launches in to life which involves a lot of eating and swimming. In this book we learned about the manta's cephalic fins. I didn't realize that they had a couple of uses.
These books are a fantastic way to introduce children of any age to individual sea creatures. I'd guess that the books are specifically designed for ages 4-8 but given the fact that the books read like a story, I think children younger than that can enjoy them.
I wasn't really familiar with the Smithsonian Institution books on animals, but there are a ton of books in this series focusing on all kinds of wonderful creatures – and not just those that live in the water! From pandas to flamingos to whales, if your young reader is interested in a particular animal, I'd encourage you towards these books. They are quite amazing and we really have loved them. For more information about these books, visit Sound Prints – and enjoy!
Carrie comes by her book obsession honestly, having descended from a long line of bibliophiles. She blogs about books regularly at Reading to Know and Reading My Library.