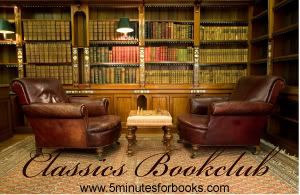 Have you been reading the classics? Have you read any since we announced our "pick-your-own" sort of bookclub? I set some goals, loosely hoping to read one per quarter, or at least four over the year, and here we are at the end of the first quarter, and I'm cramming. I have not finished my book, but I am reading it. I'm fairly sure I'll be able to link up a review by sometime tomorrow.
And though the traffic will probably slow down, there's no time limit. I would say if we get too far into April you should save that review to link up the next 5th Tuesday (June 29).
This is our first quarterly posting of the linky that invites you to post up all your reviews from the last quarter (from January 1 on). The idea is not only that you will tell us what you've read and what you thought of it, but that it will still be like a bookclub of sorts, as those who have also read the book, or who are curious, surf around to your link, and join in the conversation (and for that matter, check out last quarter's links as well).
For ease in surfing, please include the name of the title(s) that you read. You are welcome to post the review for any book you read between the end of December and now.
If you are still cramming, or didn't even get to that point, just mark your calendars for June and share what you have then.
Find out about our upcoming community events at our Join In page. Coming soon:
Check out our current giveaways. Subscribe to our feed. Follow us @5M4B on Twitter.
Link up: