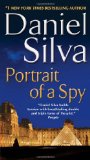 Gabriel Allon is retired from the Israeli secret service, living in a small Cornish village, and restoring a Rembrandt. When he and Chiara (his drop-dead gorgeous wife, de rigeur for international spies) go up to London for a weekend to visit an art gallery, Gabriel sees a suicide bomber heading towards Covent Garden. He tries to intervene and is stopped by the British police. Haunted by his failure and the growing amounts of dead bodies after simultaneous bombs in Paris and Copenhagen, he allows himself to be drawn back into the game.
He and his colleagues from Israel, Britain and America hatch a daring plan—fund a terrorist network, and in so doing gain access to their masterminds and destroy them. But in order to do this, they need to find someone with impeccable jihadist credentials who is actually on their side. They have someone in mind—the only daughter of a multi-millionaire Saudi businessman. Unfortunately, Gabriel is the one who killed her father, in front of her, several years earlier. Why would she now risk her life for their scheme?
Portrait of a Spy
is gripping stuff. As Gabriel and team race across continents, visiting desert strongholds in Dubai, safe houses on the shore of Lake Geneva, or CIA-owned apartments in Duluth, Virginia, the stakes ratchet up. There's plenty of frustration between the different nationalities and their governments, plenty of interference from the "suits" who aren't on the ground and don't understand potential results. There's definitely some bias, which may or may not bother you.
Portrait of a Spy
is well-done for its genre. It's the sort of book that is perfect for the beach or an airplane ride—good plot, keeps moving, characters fleshed out and interesting enough to make you care about them. This was my first book by Daniel Silva, but it's the 11th in this series about Gabriel Allon. It stands alone.
I'm thrilled to announce that we have a copy to give away! Just leave a comment below to be entered to win. The winner will be announced on April 4th. This giveaway is now closed.
Don't miss a thing: Check out our current giveaways. Subscribe to our feed or video reviews on YouTube. Follow us @5M4B on Twitter or on Facebook.
Elizabeth enjoys a wide variety of genres, from international spy thrillers to classic literature. Read more at her blog Planet Nomad.