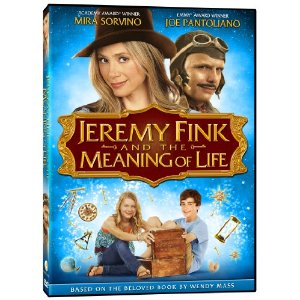 My daughter first read Wendy Mass when Jeremy Fink and the Meaning of Life was nominated for the Nutmeg award, our state's book award. Later in the year, I ended up picking it up myself, and I was so delighted. Since then, we've both enjoyed Finally and 13 Gifts. While delightful, those two might be accused of being "girly," but Jeremy Fink and the Meaning of Life is one of those awesome books that is great for girls and for boys.
In this last month leading up to the release of the Jeremy Fink & The Meaning of Life DVD, I've heard a lot of buzz about it. I think that it was a "straight to video" sort of release, but this has all the makings of a blockbuster — award-winning actress Mira Sorvino, included.
Description: A month before his 13th birthday, Jeremy Fink receives a mysterious wooden box in the mail with the words The Meaning of Life – for Jeremy Fink to open on his 13th birthday. It has four locks, but the keys are lost. In order to find out what secrets lie within the box it is up to Jeremy and his best friend Lizzy to use their imaginations to search high and low throughout Manhattan for clues. Their adventure takes them from flea markets to science museums meeting wacky and interesting characters along the way. Each encounter unlocks a clue to bring them closer to finding out the contents of the box and ultimately discovering the greatest secret of them all. Based on the beloved book by Wendy Mass.
I haven't actually watched the movie, but I couldn't pass up the opportunity to offer one of you (U.S. shipping addresses only), a chance to win the book and the DVD. If you or your middle grade reader haven't read this book yet, you must! And if they have, they might love the movie (look for my review next week in our Books on Screen column).
Just leave a comment if you'd like to win. We'll announce the winner in our book giveaway column on 3/21 (I've decided to leave it open another week). The giveaway is CLOSED.
Don't miss a thing: Check out our current giveaways. Subscribe to our feed or video reviews on YouTube. Follow us @5M4B on Twitter or on Facebook.
Jennifer loves reading books with her children, as well as the keys that it unlocks into their psyches. She blogs at Snapshot.