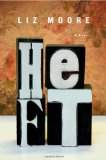 Kel Keller will break your heart. The second of two narrators in Heft
, Kel is a high school senior with a secret—his mother, who's raised him single-handedly, is rarely able to leave the house. He often comes home to find her passed out on the floor, a bottle of alcohol nearby, and he has taken over such normally adult actions as paying the bills, to avoid having the electricity cut off. But his mother has managed to enroll him in an out-of-district high school, where Kel is unlike his comfortably well-off classmates.
A fundamentally nice and decent kid, Kel recognizes that his popularity is a gift that he didn't earn, and that his mother was not given it. He learns to downplay his origins at school, protecting his mother while struggling with anger towards her. One fateful night when he comes home late after working on an after-school project, he finds she's combined pills and alcohol and is barely breathing. Even this he tries to keep secret, leaving her at the hospital and going to stay with a school friend, where he is given his own room and shower and a lot of sympathy whispered about in not-quite-low-enough voices.
Heft opens in the voice of Arthur Opp, who weighs 550 pounds and has not left the house in a decade. He lives in a beautiful brownstone in New York, has everything delivered to the house, and takes out the garbage by standing in an open doorway and tossing bags of trash to the sidewalk below.
Years earlier, he was a professor and had a mild sort of affair with a former student, Charlene, which ended up in his getting disciplined. His response was to absolutely drop out of life, even though he'd done nothing wrong, and stay in his house, eating more every day. The two of them wrote letters for years, and then lost touch. He's thrilled when she calls him out of the blue with an appeal for help, although it also panics him. He decides to tell her the truth about himself, and in response, she sends him a letter with a picture of her son, Kel. In hope of seeing her again, he hires a house-cleaner and lets someone into his life, just a little bit, for the first time in a very long time. Meanwhile, Charlene has left Kel a letter, telling him about Arthur.
Have I made this book sound depressing? It isn't. It is pretty close to perfect, presenting a realistic slice of life, characters you relate to and care about, hints of hope and redemption without it being saccharine and unrealistic.
I was at one point an aspiring writer (of fiction, that is). I gave up when I realized how much work it is to actually come up with a plot, but I well remember "them" telling me in writing classes, "Write what you know." And I obliging did, writing about college students looking for housing or tormented, angst-filled young women with curly hair trying to figure out life. I've seen a picture of Liz Moore and she is neither 500 pounds nor a blonde high school baseball star. Of course neither am I. But the voices feel pitch-perfect to me. Heft is a gorgeous book. I loved the characters even when they frustrated me. Moore's a great writer, and I thoroughly enjoyed this book. I highly, highly recommend it.
Elizabeth may not write fiction, but she's gotten pretty decent at describing the events of her life. Read more at her blog Planet Nomad.