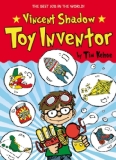 I thought that these books by Tim Kehoe might appeal to my 2nd grader, with their compelling plotline and inviting covers. I accepted the offer to review them and put them out in plain sight when they arrived. Kyle took the bait, deciding he liked Vincent Shadow: Toy Inventor as soon as he started it, and continuing with the newly released second in the series, Vincent Shadow: The Top Secret Toys.
Vincent Shadow is an inventor. He's also an 11-year-old boy. He's never marketed any of his toys, but he gets literal flashes of brilliance when the ideas come to him, fully realized in a vision which blacks him out for a minute. The toys mentioned within the pages are actually author/inventor Tim Kehoe's creations.
One reservation I have is that the content seems a tiny bit dark. Vincent's dad has recently remarried, and Vincent is definitely a mis-treated stepchild. While his new sisters get warm soup and crackers and fresh brownies in their lunchboxes, he gets a crusty peanut butter sandwich. When they move to Minnesota, he gets a little room in the basement. His oldest step-sister can't even be bothered to get his name right, though Stella, who is his age, is kind and helpful.
When I was mid-way through the first book, I asked Kyle what he thought about his step-mother and step-sisters (and even his father refused to accompany him to New York when he won the opportunity to compete in the Toy Invention contest). He said that were a little mean sometimes. After finishing the book, I saw what he meant. They do redeem themselves by acting in the way that a supportive family should act.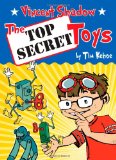 The second book, Vincent Shadow: The Top Secret Toys, Vincent gets to spend a summer working with famous Toy Inventor Howard Whiz, where he also has to help save Whizzer Toys.
Kyle has ranked these books among the top series he's discovered this year. He says the second is even better than the first, but warns that you must read them in order to truly understand. What he really loved was the inventions (and each book even has a cool inventor's notebook in the back with more sketches and fully described ideas), and that is more of the focus of the 2nd one.
The books are very narrative (descriptions versus actions), but in spite of this the stories move along at a nice fast pace. As I said, my own son read them both back to back, and this is no easy feat. Though he's a very strong reader, he is also particular, so there are some books that he won't even try to read, and others that he will give a short chapter or two's consideration at my insistence, and then put down. I'm heartily giving these books my recommendation.
The reading level is a high 4th grade (which is Kyle's testing level at school). There are definitely some big words, so a younger struggling reader might have trouble (though they'd still be great read-alouds).
One of you can enter to win a copy of both books (U.S. only). Just leave a comment here, and I'll pick a random comment. The winner will be announced in our giveaway column on 3/21. The giveaway is closed.
Don't miss a thing: Check out our current giveaways. Subscribe to our feed or video reviews on YouTube. Follow us @5M4B on Twitter or on Facebook.
Jennifer loves reading books with her children, and having the tools and recommendations of others to put great books in their hands. She blogs at Snapshot.