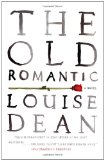 Ken is the sort of octogenarian—cranky, foul-mouthed, needy, crass, impossible—that makes your own father-in-law look not so bad. He's certainly been more than bad enough for his son, Nick. 20 years ago Nick, then called Gary, shook the dust off his feet and departed for Cambridge University, leaving his parents and brother behind.
Since then, Nick has become a successful lawyer. Ken and Pearl, (Ken's match in every way) have divorced, and both blame Nick. Dave, his brother, keeps a sort of uneasy truce between them all, hoping for reconciliation. Now Ken's remarried to June, a woman he met on a pier one day, but he's not content with her and it shows. Dave's married, with 2 kids. Nick's living with Astrid, who runs a spa and worries incessantly about aging, and her 12 year old daughter Laura. And none of the family have seen or heard from Pearl in 20 years, although Ken has decided they're still married in spirit.
The Old Romantic
opens with a first meeting in ages. Ken is convinced that this is the year he's going to die, and he wants to see his family reunited once more. The meeting is not a success. Nick has left this lower-class world behind—it shows in his manner of speaking and living, in the car he drives and the food he eats and the fact that he's taking a vacation in Spain. Very much a working class father, Ken is vocal in his opinions of a son 'wot's got too posh.' The result is a glimpse into a world where upward mobility is not taken for granted, nor viewed as a good thing.
Although things are off to a rocky start, the characters don't give up on each other. There are pivotal moments in the various relationships; during the vacation in Spain or at a weekend spent with Nick's old Cambridge friend, or during a road trip taken by Nick, Ken and Dave. It's not exactly that the characters themselves grow; it's more that they recognize themselves in the other, and learn something about grace.
The Old Romantic
is in many ways a lovely book, warm and cozy in between bouts of invective. It takes an unsparing look at the surprising endurance of family ties, of second chances, of love both romantic and familial, and how it can outlast events that would kill most things. Louise Dean's descriptions of countryside and towns and buildings are lush—she's a painter with words, and sometimes in the middle of family squabbles you will catch your breath at the loveliness of the countryside.
A warning: this is an English book, so some Americans may occasionally have a bit of hard time following some of the dialogue. I'm a subject of the crown (Welsh mother, American father) and I missed a couple of words myself. But don't let that stop you from enjoying this surprising and delightful book.
Elizabeth enjoys British humour and stubbornly continues to spell words like colour and neighbour the way they were meant to be spelled. Read more at her blog Planet Nomad.