Sunday we featured Sandy Ralya's post "Why I Wrote the Beautiful Wife" in our On Reading column. Check it out for insight into what the book and the active work of marriage mentoring means to her.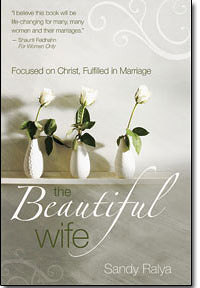 I had the opportunity to preview The Beautiful Wife as well as The Beautiful Wife Prayer Journal and The Beautiful Wife Mentor's Guide.
I have not completed the entire book, nor have I had the opportunity to use the prayer journal or the mentor's guide, but here's what I have appreciated so far. Sandy Ralya's style is straightforward and simple. She draws you in with her honesty about her personal experience, girds her teaching with scripture, and then issues challenges and action steps at the end of each chapter. There is a "First Steps" section to move towards change, and a "Reflections" section to encourage deeper thinking and also accountability or sharing with a friend.
Being transparent about the ups and downs of marriage with close friends has helped me weather those storms. Hearing about struggles or victories that my friends have had has encouraged me, as I hope my honesty encourages them.
Ralya's vision of a community of support around the issue of marriage is not just words. She's lived it, and you can tell when you read her book.
This book covers it all: taking care of yourself, keeping the mystery alive, sex, communication, money, work. Find out more about who the beautiful wife is at Sandy's guest post about why she wrote The Beautiful Wife.
The Prayer Journal is more a workbook or a journal than what I'd think of as a prayer journal, and I can't wait to record my journey in it. It gives practical steps to take to improve your marriage, and allows you to document your progress.
Please leave a comment here if you'd like to win a copy of the book. It's open to U.S. and Canadian shipping addresses. We'll announce the winner in our 3/7 giveaway column. The giveaway is closed.
Check out the blog tour page to find out even more about Sandy's testimony and how you can enter to win a Kindle.
Don't miss a thing: Check out our current giveaways. Subscribe to our feed or video reviews on YouTube. Follow us @5M4B on Twitter or on Facebook.

Jennifer Donovan has been a beautiful wife (or at least a wife) for 19 years. She blogs about life with her husband and two kids at Snapshot.