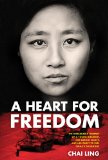 It's not that Chai Ling was ever a normal girl, but her childhood was unexceptional for its time and place—the daughter of two army doctors, growing up in China and learning early on to care for her siblings while her parents were away. She was always motivated and highly intelligent, and she won awards and admission to Beijing's most prestigious university. There she studied hard, met boys, allowed herself to be persuaded into intimacy, had abortions. She and her husband, both active in student leadership, found themselves leaders of the student uprising at Tienanmen Square, which of course went so heartrendingly tragic and turned into one of history's most horrifying massacres. (You could argue that a massacre is always horrifying and I would agree. I just remember this one. I was the same age as many of those murdered. That famous photo of the single student in front of the tanks is so haunting.)
There are two main strands to A Heart for Freedom
. The first is an insider's account of the events of the student demonstration at Tienanmen Square, and it is breathtaking and fascinating and heartbreaking. The story of her eventual escape from China, even as one of China's most-wanted, is gripping, and her escape thrilling. She even got plastic surgery to disguise her face, and could not of course say goodbye to her family, who were already at great risk. The other strand concerns her personal life. Chai admits openly, for the first time, her many abortions, and comes to realize that they were coerced although they did not feel that way at the time–there was no way she could have gotten permission to bear a child before she was married. Now, living in Boston and married to an American, mother to 3 daughters, she feels she has been given permission to mourn those other losses. She is also fighting for China's lost girls, recognizing that the gendercide practiced in modern-day China is taking a huge toll on its people, where 35,000 forced abortions take place every day, and a million baby girls are abandoned each year (p. 301), and every day 500 women commit suicide (p. 300).
In spite of being twice nominated for the Nobel Peace Prize, Chai found herself deeply disillusioned by the violence, tragedy and suffering she experienced. Even living in relative peace and freedom in the West, she struggled with an abusive husband and with seeing relationships with other student leaders unravel, even to the point where she was accused of being responsible for the massacre. She desperately sought inner peace and healing, and relates how she has at last found it through faith, and recounts the steps of healing she has come through. Although she has always had a heart to save her country, she came to realize that it would take a much greater power than she possesses, and as she turned her life to following God, she has finally been able to lay down her burdens and experience that long-elusive peace. She has turned her past experiences into a continuing passion to serve and love her country by fighting for it's children.
Chai Ling's story is well worth telling and hearing. A Heart for Freedom
goes into detail about the events and choices leading up to Tienanmen Square, recording an important piece of history, even if the casual reader may be tempted to sometimes skim. It gives the reader a glimpse into everyday life in China, and deals with how events can burden or inspire us. Her story is remarkable. She is an exceptional woman who recognizes the power of her exceptional God.
Elizabeth enjoys reading memoirs of people who find themselves making history. Learn more at her blog Planet Nomad.