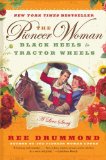 Pioneer Woman Ree Drummond took any sort of idea of recognition that a little blogger could hope to get, and shattered it. Cookbook author (with a second coming out next month), Food Network show host, and now her love story/memoir The Pioneer Woman: Black Heels to Tractor Wheels–a Love Story is being released in paperback.
If she wasn't so charming and talented, I think we'd just have to hate her.
The Pioneer Woman: Black Heels to Tractor Wheels tells about how she met the man of her dreams for whom she changed all of her plans. It's a delightful story, and one that will hopefully help you remember your own heart-pounding days of first-love (or encourage you to keep hanging on and waiting for Mr. Right to come into your life). Yes, it's sweet, but it's a little spicy as well, with make-out sessions and fairly chaste burning and yearning to rival any YA literature out there. It makes it read a bit like a romance novel/fairy tale, and maybe that's what it is.
I sped through it, and I have to say that I'm glad I hadn't read this book before my trip with the Compassion Bloggers to the Dominican Republic in 2008. Marlboro Man and their 2 oldest daughters covered the trip for Pioneer Woman. He was indeed the strong silent type with a great sense of humor and a big heart that Ree characterized in her memoir. But since it read more than a little like a heart-pounding romance, I think that I might have felt a little bit awkward and embarrassed as I faced those "ice-blue eyes" and heard that "deep voice" that made Ree go weak in the knees. But as it is, reading it and having spent several days with him, I can actually testify that he probably really is/was the Prince Charming in Wranglers and cowboy boots that she describes in her book. He seems too good to be true, but based on my limited observation, he probably isn't.
The Pioneer Woman: Black Heels to Tractor Wheels looks at their relationship from their first meeting, to a courtship, wedding, and the first year of marriage. It's a romantic story, a true-life fairy tale, and one that will make you believe in love.
Though she's not a TV host or best-selling author, Jennifer Donovan has enjoyed the opportunities that blogging has given her, including being able to experience the life-changing work of Compassion International. She blogs at Snapshot about the trivial and the significant events that have shaped her.