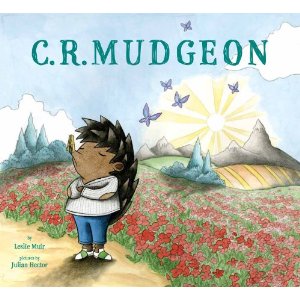 C. R. Mudgeon is an adorably grumpy hedgehog created by Leslie Muir. He likes things to stay the same:
Every night he snuggled his hedgehoggity feet into his wooly slippers. He sat in the same old chair. He wore the same soft raveled sweater. And he read his favorite book — Medical Cures from A to Z — by the crackle of a single twig.
When he heads outside for his customary Tuesday-morning fig-picking trip, things have changed. A bright-eyed cheerful squirrel named Paprika has moved in next door and changed everything — by planting poppies and painting her front door bright red and telling him she's going to plant "a bazillion cherry tomatoes" — C.R. Mudgeon feels the need to just go back home and take a nap.
I've frequently shared that I missed out on the "picture book gene." I read them with my kids (and they selected them from the library for themselves) until they could "really" read, at which point we abandoned them for chapter books, but I know that educators (like Dawn!) and librarians love picture books for all ages.
This is one of those picture books that uses advanced vocabulary and has many sentences on each page, making it perfect for older kids. A younger child would be itching to turn the page before the story is finished, but this is the kind of story that an older child will be sucked right into, either as a read-aloud or as an independent read. Any age will enjoy the illustrations by Julian Hector, which perfectly complement the text.
Kyle, my 2nd grader, picked it up all on his own from my review pile, and he said it was "a good story." I was grilling him for details, and his plot summary was "C.R. Mudgeon gets a new neighbor who he doesn't like." I asked him if he liked her by the end, and he said, "Yes, but if you are doing a review, don't say that. At school we are learning how to write a good report, and you shouldn't spoil the book by telling the ending or the best part."
Just have your seven-year-old shield his or her eyes from this post, okay?
C. R. Mudgeon is one of those hedgehogs (little kids??) who needs to be prompted to jump in and try something new and let the fun in. Perhaps you know such a child hedgehog? Or maybe there's a Paprika in your life who is always itching to share the fun? In the end both strengths are highlighted as necessary and good, making it the perfect story to share with any child.

Jennifer Donovan is raising two little Paprikas, which sometimes makes her feel like a C.R. Mudgeon-ly mommy. Read more about her joys and challenges at Snapshot.