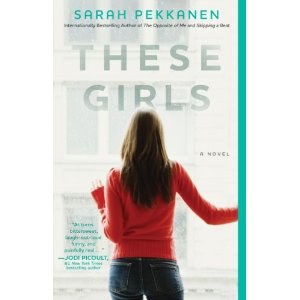 Sarah Pekkanen is a chick-lit author about whom I've heard many good things (click the link to read Dawn's reviews of 2 of her previous novels), so when I had the chance to review her newest novel These Girls, I was excited to finally check her out myself.
This novel is told by alternating 3rd person points of view from three roommates. Renee is kind and warm and talented. But she's always been sensitive about the few pounds she carries around and she gets caught up in a dangerous habit to try to slim down in time to land a promotion to beauty editor at Gloss magazine. Cate is the perfect one — slim, pretty, efficient. She's just been promoted to features editor at the magazine where she and Renee work, but she has a secret that she worries will one day be uncovered. Abby is another co-worker, Trey's, sister. Renee and Cate would do anything to get on good-looking and talented Trey's good side, so when his sister flees from her nanny job in Maryland to her big brother in New York City, they are happy to help her recover.
I was drawn to the story, because I love friendship. The role of women in each other's lives is crucial — from the playground to the college campus, young adult life, marriage, children and beyond. I also love a New York City setting, with the backdrop of the publishing and PR world, with the celebrity phone interviews and swag bags and advanced copies of novels that they get. It was very accurate and familiar to me. However, I think that I realize that I don't quite connect with the single twentysomething woman anymore. I've read novels that feature young single women and enjoyed them, but for me, this one didn't quite transcend the plot into something that I could enjoy on another level. Because of this, I liked this book, but I didn't love it. It was a nice quick read, and I do think that some of the characters will stick with me. The end was definitely satisfying, as each of the three women confront their secrets, which is exactly what I look for in a character-driven drama, but it just took a while for me to feel invested.
That said, if you enjoy light fiction about young twentysomething women with interesting jobs in the best city in the world, you'll probably like These Girls, especially if you are a Sarah Pekkanen fan.
And I have a copy for one of you (U.S. addresses only), so leave a comment here if you'd like to win. We'll announce the winner on April 18.The giveaway is closed.
The winner of Portrait of a Spy is #3 Barb.
Don't miss a thing: Check out our current giveaways. Subscribe to our feed or video reviews on YouTube. Follow us @5M4B on Twitter or on Facebook.
Jennifer Donovan never lived the life of a single career gal. She's been married to her college sweetheart for 19 years. She blogs at Snapshot.