Topical books are always a good place to start when you are trying to find some books to share with your preschooler or elementary student. Here are a few books to break out this Spring season that combine creative text and bright beautiful illustrations.
The bunnies that are featured in this picture book written by Eileen Spinelli and illustrated by Megan Lloyd makes it fit right into seasonal spring or Easter picture books. But this bunny doesn't deliver eggs. He's just a kid who is proud to be a big boy, doing things by himself like getting dressed, getting breakfast, and taking risks on the playground.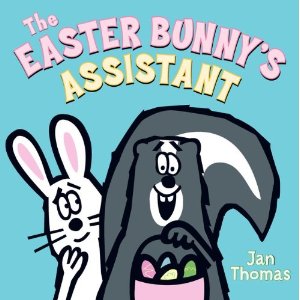 I first read and reviewed a Halloween book by Jan Thomas and was charmed by the simple text and bright illustrations. This Easter book has exactly the same tone and the bold bright illustrations. In The Easter Bunny's Assistant we meet the Easter bunny, and his assistant, Skunk. Funny, right? Easter Bunny and Skunk are trying to tell us how to color Easter eggs. That's very exciting to Skunk, but when he gets excited, he sprays, which leads to the Easter bunny taking matters into his own hands for a better, more fun, less exciting but better-smelling experience.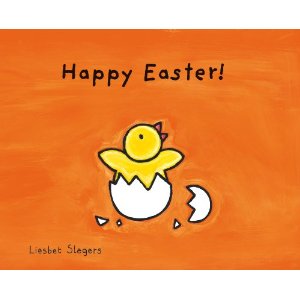 I've also come to appreciate the picture books of Liesbet Slegers for similar reasons — very simple colorful drawings and text. These books are actually more for a younger preschool audience. Happy Easter! is a great introduction to the holiday, starting with the spring season, the crafts and parties that happen, and of course the Easter Bunny: "But who is the Easter Bunny?" Slegers explains the Easter bunnies role of gathering eggs and coloring them, and of course delivering them to the children.
HOP DVD at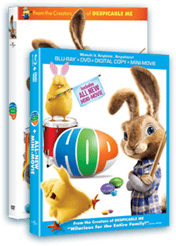 Be sure to check out Dawn's review of the HOP DVD at 5 Minutes for Mom, where you can enter to win a prize pack worth almost $170, including the DVD and a Blu-Ray player.
Please note — this post does not have a giveaway, but I've tagged this as a giveaway so that you can enter Dawn's giveaway, open until April 14.