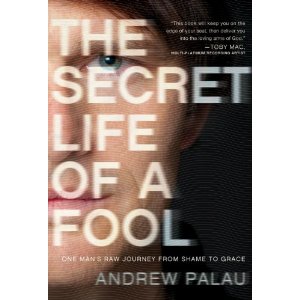 Secret Life of a Fool
opens with a plane crash. Andrew Palau and his family were on their way to visit his inlaws in Jamaica (yeah, I know. Mine used to live in Hawaii, which was nice, but now they live in the California desert, a place without much in the way of ocean breezes and fruit drinks with funny straws) when their plane went off the runway and broke into 3 pieces, narrowly avoiding landing in the ocean. No one is killed or even seriously injured, although Andrew needs 27 stitches on his face. The event has the effect of crystallizing his past for him; as he reflects on his life, he realizes he needs to share what he's learned. The result is this book, "a story arc that tells how a life that was discarded and broken can be gathered up again and remade." (p. 21)
Andrew Palau is the youngest son of famed evangelist Luis Palau, and he grew up in a loving and healthy home where he constantly pushed the boundaries. Born with a thrill-seeking personality, he spent a large portion of his adolescence building molotov cocktails and rolling realistic dummies under cars to freak out their drivers. He describes hiding on a bridge with a friend and waiting till they could see the headlights of an approaching car, then launching a lit gallon of gas off the bridge just to watch the headlights swerve. (Quote: "Fire was an attention grabber." p. 15. Uh, yeah.) They intended to hurt no-one and managed not only to succeed at that, but to not get caught, as they scampered off into well-known woods to hide. Andrew grew up in Portland, Oregon, where I now live, and I can imagine some of his antics pretty well.
As you can imagine, Andrew's thrill seeking grew more intense, including drunk driving, drugs, and an all-out party lifestyle. He went to the University of Oregon, where he lived in a fraternity and drank his way through college, but he managed to emerge with a degree and began to pursue a career in retail business. He moved to Boston but continued his partying ways, always seeking ways to keep busy to avoid being alone with his thoughts. If he was ever not out with friends, he would fall asleep to the TV, anything to avoid having to face the empty void that his life had become.
His father, Luis Palau, invited him to accompany the family to an open-air festival in Jamaica, and that was the beginning of a vast change for Andrew, as he discovers that no matter how bad his previous choices were, they were insignificant before the vastness of God's grace.
Secret Life of a Fool
is raw and honest. Andrew doesn't hold back from exposing his past, and the shame he now feels of things he used to be proud of. Yet it's a book that holds out a tremendous promise, of forgiveness, reconciliation and grace.
Elizabeth has experienced much grace in her own life as well. Read more at her blog Planet Nomad.