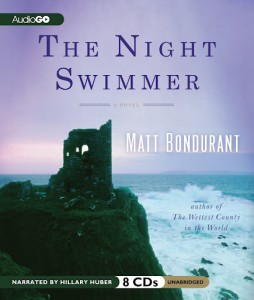 The Night Swimmer by Matt Bondurant tells the story of Fred and Elly Bulkington who move from the United States to a small town in Ireland after they win a pub in a contest. They work hard to fit in with the people, but they meet resistance. Their marriage — already shaky — doesn't respond to the stress well. Elly escapes the tension by swimming, mostly at night, right in the sea.
The plot intrigued me, because I love a book with a good setting, especially featuring people adjusting to a new place, as well as the conflict that change (or lack of change) causes in a relationship.
However, this book moved at a ponderously slow pace. I'm generally one who puts character development in a novel on an even par with plot, so a slow pace doesn't always bother me, but I also felt the characters fell flat. There was not much growth or change in any of them.
One highlight was one of the things that drew me to the book in the first place — the strong setting of Ireland. The secondary characters, the townspeople, were interesting and probably what kept me going. The description of the people and the place was outstanding.
Another element that will be of interest to some is Elly's swimming. Any athlete who identifies that strongly with his or her sport will definitely connect with her. Specifically, if you are a swimmer, these details might interest you enough to stick with the book.
AUDIOBOOK NOTES:
Hillary Huber was a good narrator. The story is all told from Elly's point of view, and she voiced her well. I wasn't crazy about Elly, and in fact, Huber's narration had to grow on me as well. That said, because of the very slow pacing of the novel, I'm not sure I would have stuck with a book, whereas I was motivated to keep listening to the audio version. This is one of the things I like about listening to audiobooks.
This AudioGo audiobook runs 9 hours 56 minutes on 8 CDs. You can also buy a download for a great price at the AudioGo site.