When the calendar turns to October, we think of warm fall colors and flavors, which include pumpkins and the Halloween transformation of them — jack o'lanterns.
It's not too late to seek out some of the books for some Halloween fun (or perhaps make a gift basket for your favorite little goblin), and a few of these, like this first one, are honestly good all year long.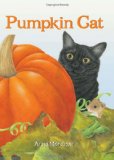 Anne Mortimer's text and illustrations in Pumpkin Cat are beautiful. The drawings and the story are both realistic and magical at once.
The book opens:
"One morning in May, Cat wondered, "How do pumpkins grow?"
"I know," said Mouse, "And I will show you how."
Cat and Mouse plant seeds. Cat's paw is just perfect for poking the hole, and that page demonstrates that wonderful fanciful yet realistic style. Kids love to plant and watch things grow, and this book is a perfect way for them to learn about that — any time of the year. The end of the book has a page "Instructions for Growing Pumpkins."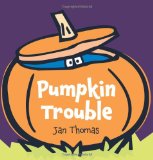 In Pumpkin Trouble by Jan Thomas, Duck is trying to surprise his friends with a jack o'lantern, when he falls inside. He surprises Pig and Mouse alright, when he's walking around with only his legs showing, trying to get out. They think he's a pumpkin monster. Silly confusion ensues. This is a simple and silly story, two things that generally appeal to kids. The bright colors and cartoonish style of artwork complement the story nicely.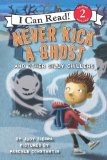 Never Kick a Ghost and Other Silly Chillers is an "I Can Read" book for developing readers. There are five stories that have a fun scary theme, accompanied with bright colorful illustrations. For example, the first story (probably my favorite) "The Skeleton Bride" tells of two pirates who get married on board ship, and then want to play a game. The bride hides in a big chest and gets locked in. The ship sinks and she's never seen again until a diver finds it many years later, and out pops a skeleton. She's a friendly looking skeleton, but this is the sort of "fun scary" themes that are throughout. Some kids will love it, but it might be too much for other kids.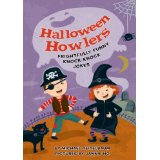 Another paperback book perfect for young independent readers is Halloween Howlers: Frightfully Funny Knock-Knock Jokes. What kid doesn't like knock knock jokes? A unique addition are a couple of sturdy flaps that reveal some of the answers. These jokes are fun with lots of Halloween flair.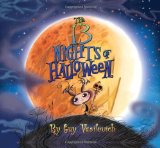 The 13 Nights of Halloween by Guy Vasilovich has a very whimsical gothic feel (reminiscent of Tim Burton). The story is told in the style of the "12 Days of Christmas." The items listed such as 8 marching mutant, 7 goblins gobbling, and 6 corpses caroling are pretty scary, so I wouldn't recommend this for the squeamish, but those kids who like Halloween the scarier the better will eat this up (or perhaps be gobbled by the goblins!!).
Jennifer Donovan lives in the Houston area with her 2 kids (13 and 7). She blogs at Snapshot.