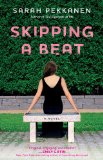 Marriage makes for a common topic among female protagonist-driven fiction, and as a reader, I know that I am attracted to stories with which I can relate, so I find myself frequently opting for novels that depict the many ways a relationship can develop. In Sarah Pekkanen's soon to be releasing novel, Skipping a Beat, a marriage that has become based more on image and money than on an actual loving connection is turned on its head.
Julia and Michael Dunhill are among Washington, D.C.'s corporate elite, living a lavish life of privilege built on the success of a business Michael built from the ground up back when they were newlyweds and floundering in debt. Their West Virginia childhoods never could have prepared them for this new life of luxury, and Julia herself never expected to eventually drift away from her childhood sweetheart, the man who entered her life as a boy defending her in a moment of danger.
Yet here they are. Julia finds the comfort she needs in her possessions and her one dear friend, yet everything changes on the day that Michael dies. It changes after four minutes and eight seconds, because Michael is shocked back to life, and he's not the same man. Suddenly, Michael wants to make a complete life change, and he wants nothing more than for Julia to be with him while he does it. His actions force Julia to face her personal history with both Michael and her family, and she has many choices to make… and forgiveness isn't an easy option.
Pekkanen's writing style in giving voice to Julia's character incorporates frequent use of foreshadowing, and Julia offers small "teaser" bits of info throughout the book. As a result, I found myself anticipating some events and disclosures, yet still completely surprised by others. The characters are wholly believable, and they continue to blossom as the novel progresses. The depiction of marriage here is highly nuanced and understandable, regardless of one's own experiences.
Money may not buy happiness, but it undoubtedly changes people, and the representation of a seemingly happy marriage shows the lack of connection that results from an ambitious and time consuming career and a loss of the relationship that was first developed. In Skipping a Beat, readers will find themselves pulled in by this intelligent, engaging and emotional story. Pre-orders are being accepted by Amazon now, and the novel will be released on 2/22.
Dawn and her family may reside in the Washington, D.C. area, but you won't see their names appearing in the society pages any time soon, but you can find them as the stars of her blog, my thoughts exactly.