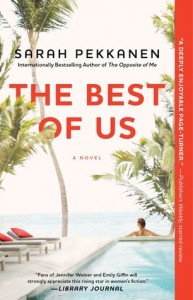 What do you get when you bring a group of old friends together on a tropical island for a dream vacation, years after the college experiences that first bonded them? In Sarah Pekkanen's new novel The Best of Us, the answer is a little complicated. Sure there are plenty of laughs and moments of reminiscing, but underneath the surface, the week might also bring out the not-so-best in all of them, as well.
Back in college, Tina, Allie, and Savannah were dormmates, and they befriended Dwight, the geeky, socially awkward guy on campus. Though their personalities might not all seem to go together from an outsider's perspective, they each brought something unique to their group friendship, and they all have fond memories of their days at the University of Virginia. In honor of Dwight's thirty-fifth birthday, his new wife Pauline is calling them and their spouses all together for a week in a Jamaican paradise, hoping to provide the best gift possible to her husband– the happiness that comes from being surrounded by friends.
Of course, the stories have to be filled in for each player in this cast of characters. Tina, mom to four young children, can't even imagine an all-expenses-paid trip to Jamaica in the context of her daily exhaustion. It's only through Allie's encouragement that she even considers the idea, and since Allie has always been the one to think about others' feelings and needs, she helps her manage the logistics and gets them both on board. Savannah doesn't think twice about the invitation- a vacation is just what she needs since she's discovered her husband's infidelity, and what better place than Jamaica to show off her hot body and maybe find someone to help her forget all about the cheating?
Though Pauline doesn't know her husband's college pals very well, she feels she needs to do something grand for Dwight. They haven't been married very long, and Pauline hasn't been completely forthright with him about her past. The effects of the secrets she carries are already causing some strain to their relationship.
The perspectives of the four women dominate the storytelling here, while Dwight and the other husbands fill in the supporting cast. Though it's somewhat formulaic to throw together a group of four female friends, (or four couples), and have them each represent one particular stereotyped version of a woman (or relationship), it can sometimes be done well. That's the case with The Best of Us, and I think I can say it's my favorite of Pekkanen's yet. She writes the female characters with depth, and though they're not always completely likable, their mistakes (even the bigger ones!) make them human. This novel nicely portrays some common issues in women's lives and marriages, and the setting of a tropical getaway removes each character enough from her everyday life to provide a chance to reflect, perhaps err a bit, and then work hard to get back on track.
Dawn would willingly join any group of folks for an all-expenses-paid trip to Jamaica. Since that's not terribly likely, she'll sit back and read by the poolside this summer while her children scream her name, again and again. She'll probably even blog about it at my thoughts exactly.