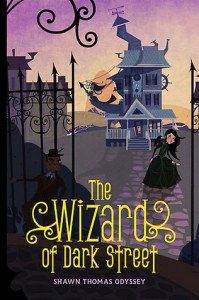 Oona Crate is a twelve year old natural magician, definitely unusual even for so unique a place as Dark Street where she serves as the Wizard's apprentice in The Wizard of Dark Street by Shawn Thomas Odyssey. Dark Street is a six mile long street between the world of Faerie and the World of Man, separated from one by Glass Gates and from the other by the Iron Gates that open each night at midnight for just one minute in New York City.
Oona, however, detests magic and is in the process of resigning from her apprenticeship to her uncle, wishing to focus instead on the detective agency she wishes to open. She accidentally killed her mother and baby sister (the darkest part of the book aimed at middle schoolers) years ago when a light show she was putting on for them in the park got out of control and a tree landed on them, feeding her fear of magic. Additionally, she is now an orphan, as her father – who was the former chief inspector of the police – was also killed by a criminal.
As the book opens, Oona discovers that dresses have been stolen from an exclusive dress shop on Dark Street, and she vows to find the perpetrator. Soon thereafter, she takes part in the official ceremony to resign her place at the Wizard's apprentice – the only person on Dark Street who has magic – while the Wizard begins his search for her replacement. Four candidates appear, but before the Choosing can get underway, a dagger is magically thrown at the Wizard and he disappears, leaving behind his wizard robes on the carpet.
Her father's replacement as chief inspector is bumbling, almost beyond comedically so. Inspector White is handling the "murder" of her uncle, but making errors every which way he turns – just as he is in the disappearance of the dresses in the other criminal activity within the book. Oona vows to also find out what happened to her uncle as her first official case as part of The Dark Street Detective Agency.
As Oona works to determine what exactly happened to her uncle and determine whether she can rescue him – and bring the assailant to justice – she has the help of her pet raven, Deacon, who has been enchanted not just to speak but to contain the knowledge of the entire Encyclopedia Arcanna, The Complete Oxford English Dictionary, and The Dark Street Who's Who: 36 B.C. to Present, a useful pet indeed. Her uncle's Faerie servant, bound to serve all the Wizard's of Dark Street, Samuligan provides another ally for Oona in her quest to solve the dual mysteries.
The book is fun and easy to read. At almost 350 pages, it isn't a short book or a quick read for a child, and it does contain some darker themes with Oona's intense guilt over the deaths of her mother and baby sister, but there is nothing graphic in the novel, and my nine year old loved the book. As much as you expect the book to be simple and formulaic, it isn't. The characters don't always behave as they stereotypically would, making them more real, and keeping the reader constantly guessing as to who the criminal (or criminals?) was.
This is the first book in the Oona Crate mystery series. Although it is the first book, it makes references to events and cases that happened prior to the start of this book, making me question myself a few times as to whether there was another book before this one. There isn't, but my confusion remained because of the way certain portions of the book are phrased, as in when talking about the Horton Family Jewelry Store thief. The good news is that there is a second Oona Crate novel already out. My review of the Magician's Tower is up, and includes a giveaway (Click through to enter to win).
Michelle sometimes wishes she were a Natural Magician so that she could accomplish certain tasks much more easily. Unfortunately, she has to come up with her own shortcuts. See what she has to share about her very human life on her blog Honest & Truly! and follow along with her on Twitter where she is also @HonestAndTruly.