Has the nice spring weather driven your children outside to soak in some natural Vitamin D and breathe in some fresh air? Are they reading less as they engage in more active pursuits? Or like my children, do they manage to combine the best of both — reading outdoors.
I'm certainly not going to criticize good ol' running and playing. But if your kids read less as they get outside more, then it's even more important to get a good book in their hands. That's what the monthly Kids' Picks carnival is all about. The third Tuesday of every month, we meet here to exchange ideas and suggestions.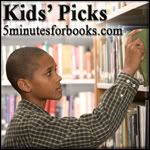 Ask your kids which books they read last month that they would recommend to other kids their age, then write up a post — or let them guest blog for you — sharing that "pick" with all of us.
You can write up a blog post and link it up here, or if you are not a blogger, join in the comment section.
Then visit around and see what kinds of suggestions you find for your kids (and if you find a good one, come back here on the first Tuesday May 4, and share your thoughts in the "I Read It!" carnival).
Visit our Join In page to find out all the details about all of our Tuesday community events.

Coming up:
Check out our current giveaways. Subscribe to our feed. Follow us @5M4B on Twitter.
Now it's your turn. Link up, directly to your blog post, or share your thoughts in the comments: