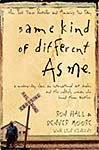 I'm not sure what rock I've been living under, but I just heard about Same Kind of Different As Me a couple of months ago. I'd read such rave reviews, I decided I had to put this book on the top of my "To Read" list. I'm unbelievably glad I did. Two days after finishing the book, I'm still reeling from this powerful true story.
Told by Denver Moore and Ron Hall in alternating chapters, Same Kind of Different As Me chronicles the friendship forged between a black homeless man and a white wealthy art dealer. Denver spent the first twenty-odd years of his life in proverbial slavery on a cotton plantation (in 20th century America). He finally decides to strike out on his own, and hops a train to Texas. After years on the street, he comes to a mission where Ron and his wife later volunteer. Ron's wife Deborah is the catalyst behind their relationship, which teaches both men how to look beyond stereotypes of others and to break out of those that define them.
If you've been under the same rock as I've been, let me urge you to find a copy of Same Kind of Different As Me and read it immediately. It will change your life. It certainly changed mine, which is why I'm classifying it as a 5-Star Read.
Melissa has been captivated by books for as long as she can remember. She resides in Virginia and blogs at Breath of Life.