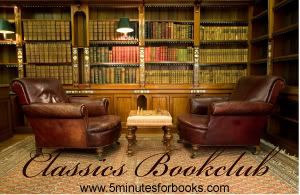 As I admitted in my Jane Eyre preview post, I have treated the first two books in our Classics Book Club like I treated most assigned reading in high school and college — I waited until the last minute.
In fact, even when I realized that I had a lot more time left to read this one than I thought (because I was a bit confused about the calendar and the timing), I still ended up cramming.
Honestly, 150 pages in, I considered just giving it up. Long sentences full of clauses made the reading slow and difficult, and the book is pretty long.
Also, it was just a bit depressing (and this from someone whose favorite genre these days is memoir, where the author is generally overcoming some horrible tragedy or upbringing or bad choice).

(Spoiler Alert: I don't normally discuss plot details in a book review, but since this is a book club discussion, I don't think a book can be discussed without discussing the details of the plot. If you haven't read it, and don't want to know — don't read these posts.)
And then, when it started to get more interesting, I was still a bit troubled by Mr. Rochester's treatment of Jane, "his little pet." It seemed a bit . . . . well, creepy. I mean, she's 19 years old, and he's almost forty. He's had mistresses galore, and she's never known the love of a man — not even a father.
But by 2/3 into this very long book, I was hooked. The relationship between Rochester and Jane fleshed out and I saw how they were a good match. As I alluded in my suggested questions, I saw great parallels between these relationships and Pride and Prejudice. Mr. Rochester and Mr. Darcy are similar in character and they each have to grow on you. I suppose that some big Darcy fans (Lisa?) might disagree with this comparison — if so, let me have it. But could anyone deny the similarities between Elizabeth and Jane? Both independently thinking women before their time, and each unattracted to marriage simply as an institution and refusing to marry for anything but love.
I asked an "English major-y" type question in the preview (you can use some or all of the questions in your response, or none at all) about prototypical characters. But since Pride and Prejudice came first, I have to say that Austen has a corner on the feisty female and the brooding male.
Even so, I enjoyed it. By the end, I was racing through to finish. I enjoyed the stereotypical actions of the characters, yet found myself amazed by the depth and strength of Jane herself. She broke through the perceptions of what one would consider as "good" or "bad," I thought.
Thursday in Books on Screen I'll give my thoughts on two screen versions of Jane Eyre. I'd love for you to join in in the comments if you have feelings (good or bad) about any of them.
Managing Editor Jennifer Donovan is a contributing editor at 5 Minutes for Mom. She has been blogging at Snapshot for over two years.
Join us November 4 as we discuss an American novel, A Tree Grows in Brooklyn by Betty Smith. I think it's quite before it's time. I'd love to see if you agree.

Find out more about the upcoming selections and other Tuesday features HERE.

Sign up for our new newsletter HERE.
Now it's your turn. Write up your own post and tell us what you think. Please link directly to your post, not your main page, so that we can find it after today. If you have any questions, send us an email or leave a comment.