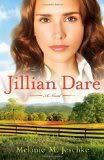 Last October, our Classics Bookclub read Jane Eyre. Although I have participated in some of the Bookclub selections, I stopped reading Jane Eyre after a few pages because I was having trouble getting into the story. Then, a few months ago, I received a copy of Jillian Dare
, a modern-day adaptation of Charlotte Bronte's novel, and I jumped right into the tale.
Jillian, a young lady who grew up in a series of foster homes, is starting her new life as an adult. She is thrilled to find a job as a nanny in a large country estate. Jillian enjoys the peaceful setting, and she adores Cadence, the young girl in her care. Jillian is also drawn to her intriguing employer, Ethan. Although their backgrounds and social status are completely different, the two are drawn to one another. Unfortunately, Ethan's secrets threaten to destroy their developing relationship, and his past becomes a danger to them all.
The author, Melanie Jeschke, says that she wrote this book for three categories of readers: the lover of classics who enjoys contemporary adaptations (not purists), those who enjoy romantic suspense, and those who have not read Jane Eyre. The author's hope is that her adaptation will inspire readers to pick up the classic work. I may have missed out on Jane Eyre last October, but Jillian Dare
captured my attention. After enjoying the modern-day tale, I plan to read Jane Eyre soon!
Jillian Dare
is not only an adaptation of a classic, but it is also a novel filled with Christian themes (some of the themes are subtle threads throughout the book, and some are more directly tied into the story). If you enjoy contemporary Christian novels or fit into one of the categories mentioned by Melanie Jeschke, I recommend this book to you. If you have read this book and you have read Jane Eyre, I would love to hear your comments!
Lauren is a wife, a mother of two, and an avid reader. She blogs at Baseballs and Bows.