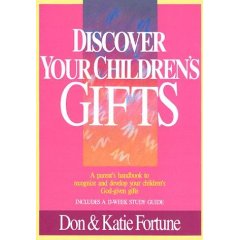 This book was unbelievably awesome. Both my husband's and my eyes were opened in new ways. This book might even rank highest on our "most discussed" list. It was that good. I hardly know where to start in reviewing it.
Published by Chosen Books, what Don and Katie Fortune set out to do in this book is to help you classify your child's spiritual/personal giftings in order to help identify with your child and aid you in raising them to be successful human beings. They have catagorized people into seven different personality types:
The perceiver who is more inclined to clearly perceive the will of God
The server who loves to serve others
The teacher who loves to research and communicate truth
The exhorter who loves to encourage others to live a victorious life
The giver who loves to give of his time, talents, energy, means and money to benefit others
The administrator who loves to organize, lead or direct
The compassion person who shows mercy, love and care, especially to those who have great needs
They emphasize the point that all gifts are equal and this book is not an attempt to place any one child above another. On the contrary, they desire to show how the varying gifts compliment each other and encourage the parents to raise their children with the knowledge that other children have value and worth in their own opinions and attitudes about life (and that everyone was created in a different manner). Their point is: we all need each other. They focus on the strengths and weaknesses of each gifting and give helpful tips on how to avoid the negatives of each personality/gift and how to encourage the best aspects of each child's particular bent.
Although this book is written from a Christian perspective, I would think it would be helpful for anyone. My husband and I talked about our own personality traits and giftings and how we could better serve and be served by the other person. This book was great marital counseling! (The Fortunes do have a book of a similar nature written for adults: Discover Your God-Given Gifts) It also opened our eyes to see how our two year old seems to be shaping up. The Fortunes provide tests which you can give your children at a toddler stage, an elementary stage, a jr. high stage, etc., to determine which direction their gifts seem to be taking them. Through these simple tests you, as the parent, become better equipped to know what your child's needs are and how to talk through frustrations, etc.
Neither myself or my husband can claim that this works from a child-rearing perspective. After all – our first is only two. However, we can say that this book was great for our marriage in learning about each other. The way that we view other relationships has also changed. It has blown our minds to see how people's gifts really do predict their actions, thoughts and behaviors. We wish we'd read this book a whole lot earlier!
This book has changed the way that I read (figuring out any particular author's book), what movies and messages I'm hearing from the entertainment industry, how I attend church and everything else. Quite honestly, it's a bit disruptive to my world and previous way of doing things. I'm analyzing more. I'm thinking more before I speak. This, my friends, is a good thing! Relationships are improving (as I improve) and I'm recognizing my own shortcomings and areas where I need work.
Now, I am a Christian so reading this book was especially helpful to me to see what I am and what God has designed me to be. Yes, I have faults but He has purpose in those faults. I feel, in some ways, like this book was God's way of breaking me down to build me back up, to encourage my marriage and to help me better raise my son. Understanding someone's gifting can help remove doubt, irritations and uncertainties. When you understand the motivation behind people, you are better able to communicate with them. Proper and healthy communication is what I'm all about these days!
Therefore I ever-so heartily and enthusiastically recommend this book. I hope you'll grab a copy. I think it'll rock your world.
Carrie comes by her book obsession honestly, having descended from a long line of bibliophiles. She blogs about books regularly at Reading to Know.