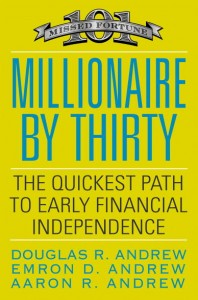 The past few weeks in the financial world have been much like a roller coaster ride. As our nation faces a time of crisis, many individuals are reflecting on their own financial practices as well.
In Millionaire by Thirty
, the authors examine the quickest ways to early financial independence. Of course, their basic recommendations are nothing new, and they are strategies that would eliminate many of the current problems facing our nation today.
Live within your means and save money.
Doesn't that sound so basic? Unfortunately, we all know that a large percentage of our population is spending too much and saving too little.
After touching on the basics, the authors share strategies for making money grow. Rather than sticking your savings under the mattress, you can make your money work for you! Of course, not all investment plans are sound, and the authors wade through many different ideas to help with good financial decision making.
While this book is aimed at young professionals who are just beginning their financial journey, anyone can benefit from good financial planning. Millionaire by Thirty
would be a good resource for anyone desiring to work toward financial independence.
Lauren is a wife, a mother of two, and an avid reader. She blogs at Baseballs and Bows.