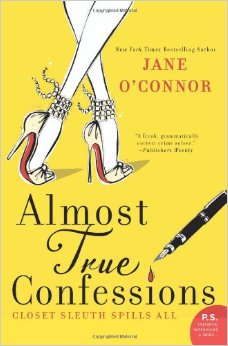 Rannie Bookman is a copy-editor who lost her job at Simon and Schuster after an unfortunate mistake made by an underling (an "l" left out of a new Nancy Drew edition of The Secret of the Old Clock). Now she works as a freelance copy editor and the money's tight, so she's thrilled when her friend at S&S calls her with a dream job–Ret Sullivan has written another juicy best-seller expose, in the style of her previous hits. Ret Sullivan's last book exposed a beloved actor as someone who bribed the cops to cover up his predilection for children, and when it came out he waylaid her and threw acid in her face. Now Ret doesn't leave her apartment and wears a ski mask if someone comes over. Rannie happily signs a confidentiality agreement and accepts a limo ride over to Ret's expensive Upper East Side apartment to pick up the manuscript, locked in a brushed-aluminum briefcase, only Ret doesn't answer the door. Concerned, Rannie has the concierge break down the door only to discover Ret's body, stretched out on the bed and quite dead. And, of course, that's just the beginning.
Rannie is small, thin and scrappy, addicted to peanut butter and jelly sandwiches on white bread, a single mother with a teenaged son still at home and a daughter off in college. She's in a highly-physical relationship with retired cop Tim Butler. She continues to have a good relationship with her ex's mother, a Manhattan socialite who's connected to all the rich and famous people, and grants Rannie and Nate, her son, access to New York's most exclusive gatherings and people.
Rannie is at first convinced that Ret's new book has something to do with the crime. But after she reads the book, she isn't so sure. She ends up visiting the subject of the book and admiring her extensive art collection, but something just doesn't seem right. Meanwhile, the book editor's body is found stabbed to death. Coincidence? Or is Rannie herself next on the killer's list? Rannie finds herself digging into Ret's past, and reconnecting with old friends, all in a desperate attempt to stop the killer before another body turns up.
Almost True Confessions
is a fun read, in part because of the character of Rannie herself. As a copy-editor, she is constantly correcting other people's grammar (at least in her head), and that part brought me joy–especially because after the first mistake I thought how ironic it was to find a typo in a book about a copy-editor, then realized it was intentional as I read on to Rannie's correction. She has a good, albeit frequently exasperating, relationship with her teen son and also with her own mother. She never stops to think about if she might be in danger, not if she can figure out what's going on.
Author Jane O'Connor wrote the Fancy Nancy series of children's books that some of you might be familiar with. This is her second foray into adult fiction, and the second about Rannie. I haven't read the first, but it wasn't necessary. Almost True Confessions is a great addition to any mystery-lover's library, and I'm thrilled to announce one of you can win your own copy. Just follow instructions in the widget below after entering your name and email address. Tell me, Skippy peanut butter and Smuckers jelly on white bread, or all-natural peanut butter with homemade jam on whole-grain? (Definitely the latter for me, only skip the jam.)
Check out our current giveaways. Subscribe to our feed. Follow us @5M4B on Twitter or on Facebook.