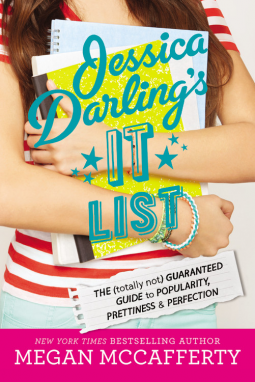 What is on the mind of every 7th grader the summer before they start junior high? So many things, such as where are they going to sit at lunch, what if they don't get the elective they chose or don't have any of their friends in any of their classes.
So what's a girl to do? When you're Jessica Darling, younger sister of Bethany Darling, who lives up to her name unlike "Notso," as her dad lovably calls Jessica (as in Not-so Darling), and did achieve all of those things in junior high and high school, you go with what you know. For some reason Bethany is spending a bit more time at home, even though she's supposed to be off at college, and Jessica is the object of her attention. She gives her a list that will guarantee popularity, prettiness, and perfection. She doesn't explain, but expects Jessica to figure them out herself, which is where Jessica Darling's It List: The (Totally Not) Guaranteed Guide to Popularity, Prettiness & Perfection comes in.
Wear something different every day.
Make the CHEER TEAM!
Pick your first boyfriend wisely.
Stick with the IT clique.
This book was laugh-out-loud funny, as Jessica navigates these things that she really does not care about. I'm far away from my junior high years myself, and even my daughter has been out for a couple of years, but Jessica Darling's mishaps and misunderstandings took me back, and not in a "Calgon, take me away," sort of way. This is the sort of book that makes elementary school kids look forward to junior high school and junior high kids to relate. There's no mature language or content, making it perfect for the target middle grade audience of 9 – 12, whether they are in middle school or just looking forward to it.
Author Megan McCafferty introduced a high school Jessica Darling in 2001 with Sloppy Firsts, then a series of books which took her through college. I haven't read them, but I'm intrigued enough with the character to want to. However, it doesn't seem like they're appropriate for the tween audience, so hopefully they'll stick to this series for a few years. However, I think that fans of Jessica Darling might want to pick this up, even if they are in their 20's these days. I know I enjoyed it.
The good news is that there's a preview for the next book at the end of this one, so the junior high Jessica Darling will continue to delight with her next "It List," The (Totally Not) Guaranteed Guide to Friends, Foes, and Faux Friends, coming in the fall of 2014.
Enter to Win
THE GIVEAWAY IS CLOSED.
Start off by entering your email address in the widget below and leaving a comment on this post telling me if your middle school days were funny, forgettable, or embarrassing, and then follow the instructions to earn extra entries.
Check out our current giveaways. Subscribe to our feed. Follow us @5M4B on Twitter or on Facebook.