This post is part of a blog tour sponsored by Sparkspoint Studio. They provided me my review copy. Of course the opinions are entirely my own.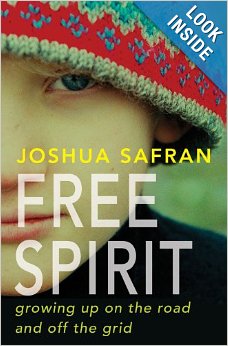 Josh Safran had the kind of childhood that's hard to characterize. He was born in a commune in San Francisco, his birth attended by a coven of witches. He grew up on the road, while his idealistic and unrealistic mother experimented with one thing after another, most of which involved living without water and electricity while searching for a Utopia safe from threat of nuclear bombs and capitalism. He lived in places as diverse as a leaky lean-to made of salvaged lumber and located in rain forest, an abandoned ice-cream truck, and on an island in the Puget Sound. His mother's sporadic attempts at homeschooling left him with a great understanding of Wicca, feminism and Marxism, and a passionate love of reading, but without any knowledge of the multiplication tables. Her late marriage to an abusive man who claimed to be an El Salvadorean guerrilla stripped Josh of what he'd always counted on–a close relationship with his mother–but at the same time his violent step-father led in a circuitous way to life in an apartment with rats, yes, but also the blissful possibility of a hot shower. Finally, he somehow emerged from a chaotic childhood to study law at Berkeley and become a successful lawyer known for his passionate defense of the helpless and oppressed, especially victims of domestic violence. He is also a Jewish rabbi.
Free Spirit is the best kind of memoir–the kind that combines incredible experiences with excellent writing and a wry sense of humour. Really, the story is like a fabled train wreck from which you don't want to look away. From descriptions of his birth–according to his mother, there were candles and a flutist and everyone chanted and rejoiced; according to his "uncle" at the commune, he was supposed to be a girl and the head witch said, "She's got a penis!" and the others said, "Wrong! Look again!"–to his stories of traveling through the Arizona desert or attending the Rainbow Family Gathering in Idaho, where he was left to fend for himself, his stories leave the reader feeling shocked, bemused, appalled and amused, often all at the same time. His mother is an amazing woman, and I don't mean that in a positive way, as her search for freedom of expression and a community of others like herself left her and especially her son prone to exploitation and in danger from a variety of threats. Sometimes I just wanted to shake her and say, "Really?" Yet it's obvious throughout, given Josh's age at the time of certain stories and the fact that he often quotes her journal, that she participated in the writing of this book, and he mentions this at the end.
I squirm at the thought of my children reading my journal and there's no way I'd let my parenting mistakes be broadcast to the New York Times' bestseller list, even though my mistakes were nothing near as spectacular as hers! So I applaud and admire her, in a way, even if she was often incredibly naive and selfish.
Like I said, this is a funny book. Josh decides he wants to go to normal school and experiences a great culture shock, where kids speak in unimaginable terms (he has never heard of professional sports teams, the lingua franca of the small town they're living in, and questions such as "He-Man or She-Ra?" are incomprehensible) and no one else seems to view the classroom as a place to acquire as much knowledge as possible. He gives up shortly after Native American Genocide Day, celebrated by his classmates as Thanksgiving. His mother mostly homeschools him except for the part where she sends him to a New Age Progressive school, where they learn to interpret each others dreams using geodes. Not surprisingly, when he attempts public school again in 6th grade, he has to go to remedial math. His descriptions of school life are often poignant and heart-breaking, but by the time he's got a year under his belt, you know he's learned to hold his own and that he's going to be fine.
Josh's mother, whom he  calls Claudia instead of mom, worries about him having a father figure, yet she refuses marriage to the man who best fills that description for Josh–the man he calls "Uncle Tony," a house-mate in the commune where he was born. Tony stays in his life throughout his childhood, sometimes coming north to visit or paying for Josh to travel back to San Francisco to visit him. He buys him school supplies for his ill-fated first day of Grade 6, and is about the only stable influence in the boy's life. Meanwhile Claudia goes through a succession of short-lived relationships, most of them conducted in full view of her young son, before finally marrying the abusive and unstable guerrilla. Although most of the stories of their time together made me cringe, Josh still manages to write with compassion and humour.
I loved Free Spirit. I will mention that some of the scenes require a strong stomach;  it's very earthy and descriptive and might leave you with some mental pictures you'd rather not have, but it's absolutely fascinating, funny, and memorable. I highly highly recommend it.