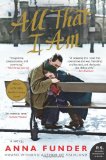 All That I Am
, Anna Funder's novel about the Hitler resistance, begins with a line sure to become a classic opener: "When Hitler came to power I was in the bath." Somehow that line, with its implied layers of domesticity and grand-scale political, its vulnerability combined with dread, sent shudders up my spine.
All That I Am
concerns the time between the 2 World Wars and the German resistance movement that watched in horror as their country turned into a madhouse, but it is very much a story of the personal, of the connections between people, of how individuals respond to terrifying events. Funder has taken actual historical characters, Ruth Becker and Ernst Toller (a celebrated revolutionary playwright), and the people they knew and loved, and filled in all the blanks to write a moving novel about their lives. It's packed with details of the time and places they frequented. I'm rather embarrassed to admit I knew very little about life in Germany during Hitler's rise to power–I just sort of thought there he was, invading Poland and shouting at the masses. This novel shines light on a period of history that shouldn't be lost, and the courageous people who did what they could to turn the tide of events.
In addition to two voices, the novel goes back and forth between 3 main times. Ruth is now 94 and living in Australia, and she recounts her current situation as well as the main story line of the 1930s. Toller is writing in 1939, from a New York hotel room, and his story of the 20s and 30s in Germany dovetails that of Ruth's–he's older, for example, and fought in WWI. He protested that waste of life and was imprisoned, from where he wrote plays that electrified the opposition movement. Together they trace their personal lives, which intersected in one person.
The focal point of life for both Toller and Ruth is Dora, Toller's lover, Ruth's first cousin and like a sister to her. She is a passionate, dedicated individual, in constant motion, who wants nothing more than to wake the world to the threat posed by Hitler before its too late. Of course we know she's going to lose, but somehow that doesn't take away from the suspense and dread of the unspooling story. A small group of them has fled to London, where they are not particularly welcome in a country that has a national policy of appeasing Hitler and ignoring any warning signs. In fact, the British government has announced that any refugees who engage in political activity will be deported. Dora, Ruth, her husband Hans, Toller, and others work in secret, threatened with exportation back to certain imprisonment, torture, and death. The weight of fear, insecurity, and frustration takes a terrible toll on them all, and Funder explores human reactions to extreme circumstances with understanding, exactness and a clear-eyed sympathy.
All That I Am
also examines closely the toll that fear can take on an individual. Ruth's husband, Hans, a popular journalist famous for skewering Hitler and Goebbels in print, has a hard time adjusting to anonymity in London. Feeling useless, shunted aside, dealing with the mistrust inevitable in a small persecuted minority, he faces the difficult decisions of the soul.
Funder is a fantastic writer, giving us lush layers of imagery and statements that stay with us. She's doing more than simply presenting a specific history–she's pondering questions of willful blindness, both personal and collective, and wishful thinking, and inevitability. She shows us humans at their best and their worst, and shows us that the ways people and governments have responded to things in the past can still resonate today. A haunting, lovely novel that will stay with you for days.
I'm thrilled to announce that one of you can win your own copy! Leave a comment below to enter and tell me, what is your favorite historic period? Giveaway (US addresses only) will be open until Feb. 27th.This Giveaway is CLOSED.
We have a ton of current giveaways. Check them out. And make sure not to miss what's coming up: Subscribe to our feed. Follow us @5M4B on Twitter or on Facebook.