I get a little tired of the cold weather, and fortunately now that I'm back in Houston, I don't really have to worry too much about it. But when it's cold and messy outside, there's nothing better than staying in, keeping warm, and reading a book.
Honeywell has made this cool infographic about gender wars as far as heating the house. Space heaters are awesome. We used them a lot in our home when we lived in New England. If I was home alone, there was no reason to crank the expensive heat for the whole house.
I'm very happy that one of you (U.S. only) can win a Honeywell EnergySmart 360 Surround Heater (ARV $59.99). All you have to do is leave a comment telling us if you are the one who turns up the heat or turns it down. This giveaway is closed.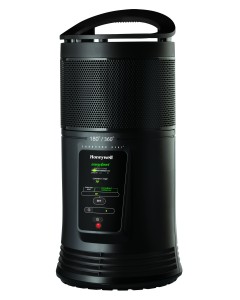 Check out our current giveaways (We have a ton going on now!). Subscribe to our feed. Follow us @5M4B on Twitter or on Facebook.
Disclaimer: I did not receive anything, including a space heater, in return for writing this up. I'm just spreading the love.